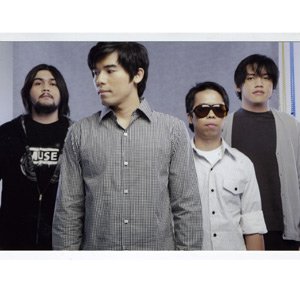 ---
If an album's inlay is enough indication of what to expect in a record, then Hale's latest effort titled Above, Over and Beyond perfectly captures the current state and mood of band members Champ Lui-Pio, Roll Martinez, Sheldon Gellada and Omnie Saroca.
Tapping the services of their artist friends to design the album's inside layout, Hale's third offering under EMI Music Philippines is bursting with vibrant hues inside and out.
"It's a new feel," lead vocalist and guitarist Champ explains to the members of the press last April 25 in a press conference conducted at EMI's office in Quezon City. He explains why they developed a hands-on approach to the project: "Kasi ganito yan e, during the first two albums marami kaming nakikitang flaws and we were complaining, so part of the solution was let's just do it on our own."
Guitarist Roll, on the other hand, describes the new songs as "pop"—pop, meaning perhaps in the vein of classic pop-rock melodic acts like The Cars or even the Pixies.
SUCCUMBING TO PRESSURE. Hale captured the attention of the public when they first emerged in 2005 via their eponymous debut record. Gaining a much needed boost through the song "Broken Sonnet," Hale's budding popularity came in full swing with the release of the single "The Day You Said Goodnight."
The song—with its romantic brooding lyrics delivered through Champ's yearning vocals—instantly hit the right buttons among the Pinoy listeners and catapulted the band to commercial fame. Hale's self-titled album would eventually soar to triple-platinum status, which is very impressive considering the continuous problem posed by pirated CDs and the popularity of music downloads through the Internet.
ADVERTISEMENT - CONTINUE READING BELOW
For a young crew experiencing sudden fame, the pressure, however, was simply too much to handle. Trying their best to keep up with the flourishing band scene, Hale soon fell apart and admittedly got lost in the entire mix.
"Our relationships suffered," confess Champ, who added that the level of communication among the band members alarmingly dwindled.
"Hindi na kami nag-uusap kasi nagkakasawaan na dahil araw-araw nagkikita during gigs. But it was really a combination of many factors and it took its toll on us, personally and creatively."
Despite the tension, the four-piece unit still opted to move forward. In 2006, Hale dished out its second album eerily titled Twilight. Although some listeners, particularly fellow musicians, lauded the group's effort, Twilight failed to match the success set by its predecessor. All four members courageously owed up that the album was created during an uninspired and tumultuous period.
STARTING FROM SCRATCH. With Twilight lagging behind in terms of support and hype, Hale reevaluated their plans and priorities. They all realized that taking a breather from the music scene was the only solution left to save the band and their friendship.
Champ, Roll, Sheldon and Omnie agreed to slow down and temporarily put band-related business behind. After not seeing each other for a couple of weeks, Hale reconvened and straightened out all their personal and professional issues.
Feeling more relaxed, ideas soon started coming out until the band felt that they were ready once again to make a new record. This time though, the songs developed in a more organic setting, with all four members sitting down and providing their output to finish a song.
ADVERTISEMENT - CONTINUE READING BELOW
So as not to ruin the casual approach they're now employing, Hale constructed a home studio in Roll's place.
"One thing about this album that we really enjoyed is that it was self-produced. Meaning to say, we have absolute control on the creative process. We took our time, it was done in our studio, in our terms," Champ proudly said.
After ten months of writing, recording and hanging out, Hale finally finished album No. 3 dubbed as Above, Over and Beyond. It consists of 13 original tracks—"Over and Over (And Over Again)," "This Is A Happy Song," "Sandali Na Lang," "The End, Requiem," "Back From Beginning," "Tama Na Ba?" "Skip the Drama," "Hagatna Bay," "Tree House," "Leap of Faith," "Sundown" and the first single "Pitong Araw."
Many fans would surely notice that the songs this time carry a distinct sunny feel, which is truly a reflection of Hale's newfound confidence and rejuvenation.
In an initial interview conducted by the band as part of Above, Over and Beyond's promo, Champ commented: "People said it was a huge risk and that it could cost us everything we've worked hard for. And that I think is our biggest challenge: proving those people wrong. We took a break to recharge and now we've come back with a kickass album."
Hale's all-original album Above, Over and Beyond is available in record bars courtesy of EMI Music Philippines.