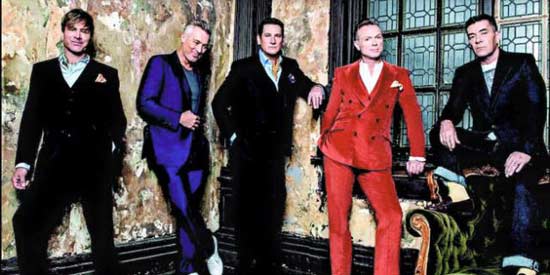 ---

Spandau Ballet, one of the most successful and influential British bands of the 1980s, will hold a concert in the Philippines this 2015.

They will bring their Soulboys of the Western World Live Concert to Manila for one night only on September 21, 2015 at the Mall of Asia Arena.

All five original band members of Spandau Ballet—Tony Hadley, John Keeble, Gary Kemp, Martin Kemp and Steve Norman—will come together to perform their smash-hit anthems for Filipinos for the first time.

Spandau Ballet has sold over 25 million records worldwide, scored numerous multi-platinum albums and amassed 23 hit singles that have endured for more than three decades.

Popular songs include "True," "Gold," "Through The Barricades," "I'll Fly For You," "Lifeline," "Round And Round," Communication," "Highly Strung," and "Only When You Leave," among many others.

Tickets prices at P6750, P5750, P4750, P3750, P2750. Pre-sale exclusive to VISA cardholders at 10% OFF on August 6 & 7 only. Tickets available to the general public starting August 8, 2015 at all SM tickets outlets and online at www.smtickets.com.

Spandau Ballet's Soulboys Of The Western World Tour 2015 live in Manila is presented by Ovation Productions in association with Dainty Group Asia.