Jessica Sanchez brought the crowd to their feet as she sang and danced along to songs from her debut album during her Up Close and Personal concert in Manila.

The American Idol Season 11 runner-up recently returned to the country for her August 9 gig at Chaos night club at City of Dreams, Paranaque City.

The dance floor roared to life as Jessica's lighthearted but commanding vocals drew dancers to the center amid the background of fluttering confetti.
The club's flashing neon lights served as the perfect backdrop for Jessica's dancey urban repertoire on her return to the Philippines.

Dressed in jeans and a sexy cropped top, the Fil-Am singer and American Idol season 11 runner-up set the rhythm of the party with "Right to Fall", "Don't Come Around", and "Drive By", from her debut album "Me, You, & the Music."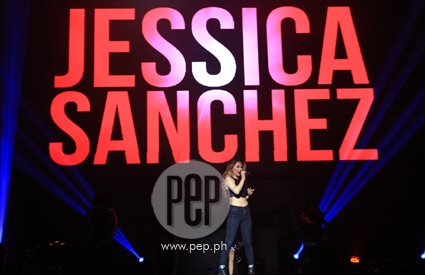 Those who followed Jessica from her breakout appearance on American Idol also came for her ballads, as her strong vibrato was praised by judges, especially Jennifer Lopez.

Thankfully, they were in for a treat as Jessica sang two pop ballads from the same album, as well as her newest collaboration with Christian Bautista.



BALLAD QUEEN. Jessica happily announced with a smile, "I got a chance to sing a song that my friend just put out."

She then called on Christian Bautista to perform their ballad "Two Forevers."

Earlier that day, August 9, Jessica and Christian performed it for televiewers at the pilot episode of Sunday PinaSaya on GMA-7.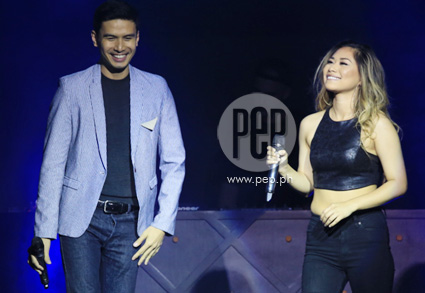 "Jessica, we're so happy to have you here and hear your amazing voice. We love you," Christian told his co-singer before the two launched their touching rendition of the ballad.

"Two Forevers" was written by Andrew Fromm, who also wrote Christian's hit single "The Way You Look At Me" and Backstreet Boy member Nick Carter.

Before this, she introduced "Plastic Roses", which she said was written by Ne-Yo in just 30 minutes.

"I can't do anything like that," she shyly conceded. "But I love this song, and the message is amazing."
Still, her own songwriting talent found its way in the next selection, "Crazy Glue," a pop song which "was written by a 10-year-old," she joked.
But the 20-year-old performer refused to mellow down for the rest of the evening as she roused the crowd again with "Gentlemen" and treated the audience to a powerful rendition of her new single "This Love."
Jessica literally left with a bang as a cracker was set off when she sang the club favorite "Tonight."

As the crowd gathered at the center at around 10 PM, dancing and snapping footage, Jessica thanked the crowd and promised to join clubgoers after her gig.