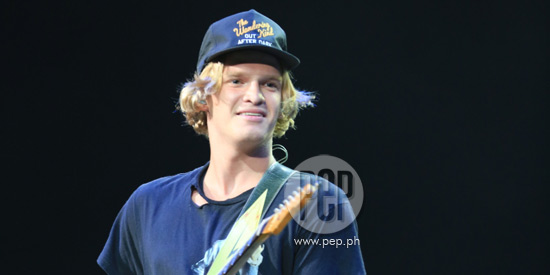 ---

Teen singing sensation Cody Simpson visited the Philippines for the first time this August and held a one-night concert at Newport Performing Arts Theater in Resorts World Manila.


Female fans, impatient for his appearance, screamed for Cody in their seats. They were temporarily pacified when Gravity, composed of five singers from The Voice Kids, performed the opening act.
They rendered songs like "Flashlight" from Pitch Perfect, their original compositions "Imposible" and "Pink" as well as One Republic's "Counting Stars."

The Australian idol finally appeared in a printed black shirt, his blonde hair covered by a baseball cap.


Young concertgoers got up from their seats with recording devices held up high. They crowded up front to catch every second of Cody's first offering for the evening, "Free."


They waved their hands to the beat, then sung the lyrics of "Thotful," Cody's second song.



GUITAR SWITCH. Cody switched guitars and greeted Filipino fans with a V sign. He talked briefly about his new independent album, Free and the feeling of wanting to break "free," so to speak.


He then launched into his own version of "Driftwood," and ended with a long instrumental set.


Cody performed several long instrumental sets throughout the night.


The concert turned interactive when Cody taught Filipino fans the chorus to the very mellow "It Don't Matter," while the drummer urged everybody to clap along.


The young musician slowed down with the soulful "I'm Your Friend," dedicated to the Pinoy audience.


He changed his musical instrument again and sat down to tune it in preparation for another long guitar riff of the gentle song, "Flower."
"Livin' Easy," another tropical-sounding ditty, followed.



HIS OWN VERSION OF "ABC." Cody recalled how he wrote the song, "ABC" while sitting on a hill in Malibu, California and observing a bumblebee as it flew by.


ADVERTISEMENT - CONTINUE READING BELOW
Cody took a cue from the Jackson 5 and came up wth his own lively version of "ABC." The crew left the stage temporarily for the next performance, "Wilderness," a slow song with an environmental theme insipired by news of an oil spill in Santa Barbara.


He asked the audience to be more proactive in taking care of Mother Nature.


"I'd like to help further plant some sort of seed in your minds, before you leave tonight, about doing what you can every now and then...just doing the bare minimum to help...preserve our beautiful earth."


MARRIAGE PROPOSALS. Fans screamed marriage proposals and declarations of love to Cody during the lull.


Then, the band was complete again for Cody's rendition of Bob Marley's "Redemption Song."


The 18-year-old performer got down on his knees momentarily for a relaxed version of "Sinkin' In."

Fans responded enthusiastically upon hearing "Home to Mama," Cody's collaboration with Justin Bieber, harkening back to his pop hits that made him such a teen sensation.


This was followed with his upbeat "Happy Lil' Hippie."


This contrast reflects Cody's musical career and his focus on being more laidback and relaxed in life.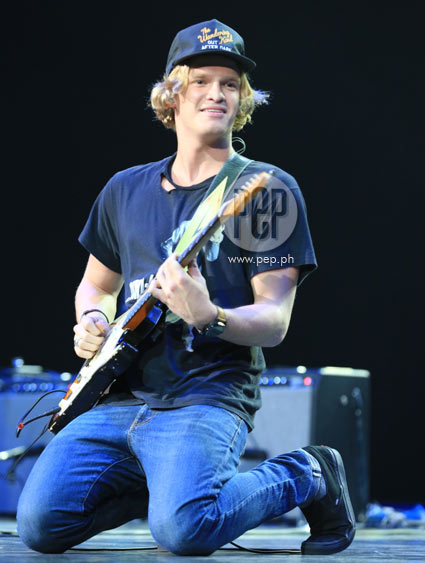 Concertgoers were then invited to dance along to Cody's covers of Elvis Presley's "Baby, What Do You Want Me To Do" and "Hound Dog."


Cody also lay down on the floor and lost his cap, which a fellow guitar player found and wore himself.


The Australian singer-songwriter then let loose with rock beats of "New Problems" while jumping on the elevated drum array.


He suddenly exited the right side of the stage without another word.


The ladies screamed for his return, but Cody stuck to the adage of always leaving the audience wanting more.