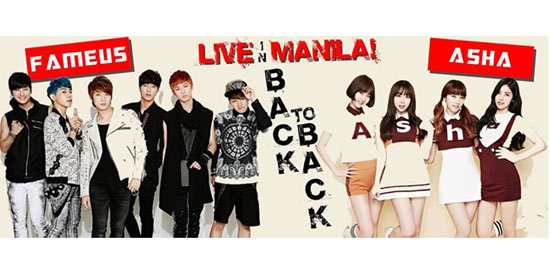 ---
K-pop groups FameUs and Asha are set to hold two major concerts in the Philippines.

Pinoy K-pop fans can look forward to seeing their idols when they perform in Manila and Davao soon.

FameUs and Asha are scheduled to perform on September 18 at the Ynares Sports Complex in Shaw Blvd., Pasig City.

They are also set to hold an October 2 concert at SMX Davao, Davao City.


FAMEUS AND ASHA. FameUs is a six-member boy group composed of Han Saem, Kudo, Jung Hoon, Dae Young, Doah, and Han Young. Since 2013, they have been performing in South Korea, Japan, China, and more recently, in the Philippines.

Their first performance in the Philippines took place in February 2015. The group is now ready to meet their Pinoy fans again for a bigger concert. They will be performing their latest hits, "Crazy" and "The Only Stupid One," among other hits.
Asha is a girl group quartet consisting of Da Ae, Nara, Yoha, and Hyun-A. This rookie girl group is also one of the latest groups in Korea, debuting last June 2015 with their single, "Mr. Liar."



K-POP INVASION. Talent manager Bella Dimayuga of Bellestar Event Management talked about the upcoming concert during a blogger's press conference held recently at Misono Restaurant, Makati City.

She explained their company's history of bringing K-pop groups in the Philippines. "We've been bringing in different kinds of K-pop shows already in the past, for the past two years now."
She also spoke about the growing community of K-pop fans in the Philippines. "You'll be surprised because the fans that will be going could be singing along with them in Korean. That's how popular they are already. Practically all the parents they're all so mesmerized, 'Bakit ba yung mga anak namin sobrang excited about K-pop?'"
She also revealed that FameUs and Asha will be staying in the Philippines for about three weeks, and are available for more show bookings.

The Zoomanity Group also expressed their plans to find more co-producers, such as universities or even a local government unit willing to sponsor shows featuring FameUs and Asha.
ADVERTISEMENT - CONTINUE READING BELOW
The two K-pop groups will also be appearing in local TV shows upon their arrival on September 16.

Their Philippine concert of FameUs and Asha is organized by Zoomanity Group and Redstone Media Production.
Buyers of VIP tickets will have a meet and greet with the performers. Games and other fun activities will also be taking place to allow concert attendees to interact with their Korean pop idols.

For concert and ticket information, contact Karren or Krizia at 0915-8904728 and 0905-6669660.
Interested parties may also call Tel. No. 899-9824 and 547-0413. To know more about the latest news about FameUs and Asha the groups' social media accounts: www.facebook.com/FameUsAsha and www.twitter.com/FameUsAsha