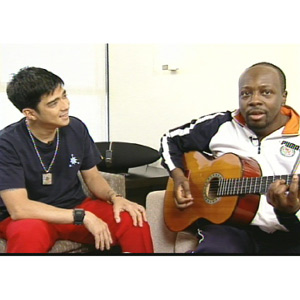 ---

It's a rare occasion when two influential artists fromdifferent sides of the world meet and talk about what they both love most:music. Francis Magalona recently met Wyclef Jean, the Grammy Award-winningmusician, producer, hip-hop pioneer and humanitarian who founded the legendaryensemble the Fugees in Hong Kong. Wyclef is currently promoting his latestalbum The Carnival II: Memoirs of an Immigrant.
The enigmatic performer who founded Yélehaiti, ahumanitarian foundation, describes his work as a "social entrepreneurship whereit's bigger than just the music. We use the music as vehicle to bring awarenessto what's going on in poor [communities] around the world." He adds that "Yélehaitiis basically similar to the Philippines. The area I grew up in was a ruin area.Sometimes we were so hungry we ate dirt from the floor. I started thisfoundation to bring self-esteem for kids. Currently I give scholarships to 10,000kids and feeding over 30,000 people."
Aside from his humanitarian work, Wyclef is also proud withthe release of The Carnival II: Memoirs of an Immigrant, his firstfull-length album since his third solo album, Masquerade. He gave hisfans their first taste of The Carnival II with the release of thealbum's lead single, "Sweetest Girl (Dollar Bill)" and now with hissecond single "Fast Car" with whom he collaborated with the legendary PaulSimon of the duo Simon and Garfunkel.


When asked about the song Wyclef says, "The song is a deep song, it's like lifeis a fast car. The video of 'Fast Car' I directed it myself. I wanted to makethe video simple for a kid so he can think when he's watching it like playing avideo game. It's almost like the kid is getting a message but he's busy havingfun. It's almost like you gotta make it hip, cool but you still got to put amessage to it."
ADVERTISEMENT - CONTINUE READING BELOW

Another highlight of the interview was the impromptu collaboration of Francis Mwith Wyclef Jean who took his guitar and strummed as Francis M rapped. Wyclef Jeanalso held an amazing and jampacked show in Hong Kong's MO (Mandarin Oriental)Bar where he played several instruments and performed songs from the new album.
The Carnival II: Memoirs of an Immigrant is nowavailable in all record stores nationwide under Sony BMG Music Entertainment.