British pop band Lawson, composed of Andy Brown (lead vocals and acoustic guitar), Adam Pitts (drums), Joel Peat (lead guitar), and Ryan Fletcher (bass guitar) are back in Manila after what seems a very long two years to their Filipino fans.
Their song "Roads" has enjoyed a strong presence on radio charts in Metro Manila since it was released in August.
The band has opened for Avril Lavigne and Jessie J. They are billed as special guests during pop singer Robbie Williams' upcoming Let Me Entertain You Tour 2015 in Australia and New Zealand.
Their much-awaited return is mutual, actually.
Andy told the Philippine media, "The first time was amazing. We didn't know what to expect the first time, obviously. We love it here, it's great. Thanks for having us back and we can't wait for the show tomorrow."

The band will be performing on October 4, Sunday, 5pm at SM North The Block Atrium. Those who buy their album will also get a chance to have their CDs signed or even be part of a Meet & Greet session.



SAMPLING PINOY FOOD. The guys even had time to visit a Filipino staple: the carinderia.

During the October 3 press conference held at Marco Polo Manila, Joel was able to say "carinderia" after DJ Joyce Pring prompted him—much to the amusement of media and fans who were present.
Ryan: It was great.
Joel: Really good, yeah.
All of them but Adam seemed to have enjoyed the foray into the exotic. He admitted: "I'm a very fussy eater."

They ordered a few common Filipino dishes like kaldereta and puso ng saging. But they still haven't tried (and may not get a chance to) balut (fertilized duck egg).
Ryan: We had the beef stew. That was good.
Adam: Ryan was a big fan of the heart of the banana.
Joel: I thought we did [try balut] the last time, but now that I know what it is, we didn't do that.
Andy: The embryo, isn't it? I think we just felt cruel. Psychologically, it doesn't work for us.


CREATING NEW SONGS. Now, the burning question is: where have they been all this time? Certainly, their Filipino fans are clamoring for an answer.
Andy: We spent a lot of time writing the new album and we spent a year in America, in Nashville, which is incredible. It's good to be out there, writing new songs, we got inspired. And also having fun. We did three years just constant touring on the road. We always wanted to come back. We tried a few times to come back to the Philippines to Manila, and to Asia, Southeast Asia, but our management were like: 'No, not yet. Not yet.' We were like: 'Please!' So we finally convinced them to let us come this time. We're delighted to be here. After this, we go toward Australia as well with Robbie Williams. That's going to be a lot of fun too.
Adam: It's been amazing to see, since we've been away, the last two years, see the support of our fans from the Philippines. Like every day on Twitter, we see that "Roads" is doing so well. On radio stations, we see the updates. Seeing that while we're back home made us want to come back.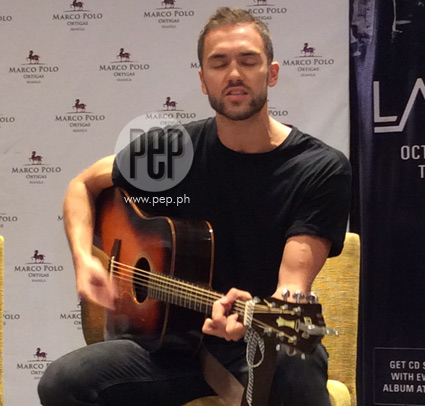 Andy Brown



PREPPING FOR THE RW TOUR. The lads are, as expected, very excited to be touring with Robbie Williams.
Adam: The last time we saw him was probably a year ago. We did a show in Manchester. It was only kind of us and Robbie who were playing live. And we were there early in the venue, and he came in and had lunch with us and sat with us for probably 45 minutes to talk of us about things in his career and our career. He gave us so much advice. It was such a special 45 minutes. We're such big Robbie fans that we can't believe we're having this conversation with him. We kept in contact with his team after that and that's kind of led to this tour. We're so grateful to him for having us on it. We can have some football matches over there, we can do our team versus his team, something like that. We've been listening to a lot of Robbie, of course. There's something special going on in that tour actually. We can't announce it yet, but something very special.
When asked if they were nervous about being part of the tour, almost in unison, they replied:
Adam: Petrified.
Andy: Yes.
Joel: Absolutely terrified.
The band members agree that the new album--and a new album set for release next year—reflect a change in their sound.
Joel: We kept making the live show so rocky—making it sound bigger than the album—everyone was coming up to us after the show, saying: 'I didn't expect that.' People were loving the live shows. We were thinking we need to put more of that into the album. I think, certainly, with the new tracks we've got, like how we sound when we go out and we walk out on the stage and we put that in the album, really.
Andy: It's up close and personal. We do a lot of arenas in the UK. We love it when we can see people's eyes and see them enjoy the music and stuff.� It's an amazing boost when you're playing in a stadium or an arena, but to me, when you're up close and personal and you can see the reaction on people's faces, that's what gives you the best feeling. When you see them enjoying it. Or not enjoying it. (laughs)
Adam: We're quite a bit older as people and we recorded "Chapman Square" probably 3 1/2 – 4 years ago now. We've grown up as a band and we have grown up a little bit as people as well. And the music has kind of grown up with us. And as Joel was saying, the more we kind of play it live, the more we kind of we work up the song, the guitar solos come in. We weren't really brave enough to put a guitar solo in the first album, so "Mountains," the last four seconds of it is just a screaming guitar solo from Joel. This time, we're kind of brave enough to put it in there. And Andy's songwriting has grown so much as well since the first record. That's kind of showing in the new album too.
Andy: I think some of the best music is about to come, to be honest. There's a song in the new album which is probably my favorite track I ever wrote. You'll hear that early next year.
FUTURE PLANS. What can fans expect from Lawson in the immediate future?
Andy: More music. This album is a few new songs and a few of the older songs. I don't think we actually released "Chapman Square Chapter 2" here. So, songs like "Juliet," "Brokenhearted" are on that new album, as well as some new tracks like "We Are Kings," "Mountains"… But along with those new songs is a full album worth of new material which we are going to drop in the UK in January. That's some of the best we've ever done. It's the same Lawson as when we started: big pop tunes and sing-along choruses; you can stomp your feet, clap your hands, hey, whoas—stuff like that. We're really proud of it and we look forward to getting it out there for the fans.
The members of Lawson remember so vividly remember the warmth and enthusiasm of their Pinoy fans the last time they performed in Manila.

They look forward to experiencing it again during their performance on October 4, Sunday, 5pm at SM North The Block Atrium. Those who buy their album will also get a chance to have their CDs signed or even be part of a Meet & Greet session.