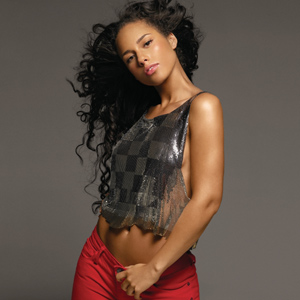 ---

MTV Philippines and Music Management International arebringing back eleven-time Grammy Award winner Alicia Keys live in Manila!Expect an edgier and sexier Alicia Keys to entice her thousands of fans with alive performance at the SM Mall of Asia Complex on August 5 (Tuesday).Everything is surely sweeter the second time around, so expect her smoothpowerful voice and uninhibited lyrics to give you another amazing musicalexperience that only Alicia Keys can give.
American R&B singer-film actress Alicia Keys has gainedthe respect of millions of music lovers all over the world with her ownoriginal compositions. Her works are expressed through skillfully weavedmelodies, her eager pounding on the piano keys and her soulful voice thataltogether creates a musical journey that no one can ever experience with anyother musicians.


Alicia Keys has indeed given us remarkable albums with a blendof soul, jazz, hip-hop, rap, funk, and groovy sounds. That's why it's no surprisethat she has sold over 25 million albums worldwide as of 2007, and has receivednumerous awards including 11 Grammy Awards, 11 Billboard Music Awards, 3American Music Awards and 14 NAACP Image Awards.
At the age of seven, Alicia J. Augello-Cook was alreadyplaying the piano, learning classical pieces such as Beethoven, Mozart andChopin. This is the reason why she chose Keys to be her stage name as she hadalways felt the name represented her both as a performer and as a person.
Alicia Keys got us hooked with her first studio album Songsin A Minor, which sold over ten million copies worldwide. That establishedKeys' popularity both inside and outside U.S. where she also became the bestselling new artist of 2001. The album gave us her first chart topping single"Fallin" and "A Woman's Worth," which led her to win 5 Grammy Awards.
ADVERTISEMENT - CONTINUE READING BELOW
Keys soon followed her debut album with The Diary ofAlicia Keys, which sold over 618,000 copies worldwide in a span of one week, making The Diary thesixth biggest-selling album by a female artist and second biggest selling albumby a female R&B artist. The album gave us the huge hits "If I Ain't GotYou" and "You Don't Know my Name" that earned for her 4 Grammy Awards.
Alicia Keys did it again last year, as she presented us herthird studio album As I Am. Her lead single "No One" was an instant hit,and earned her the "Best Female R&B Vocal Performance" and "Best R&BSong" at the Grammy Awards this year.
Watch out for her powerful performance on August 5, 2008 atthe SM Mall of Asia Complex. If you missed it before, now is your chance towatch Alicia Keys in person. To reserve tickets, call TicketWorld at 891-9999.For more information, tune in to MTV Philippines on Channel 57 on Sky Cable (orask your cable operator for channel designation). For sponsorship inquiries,call MTV Philippines at 706-1580.