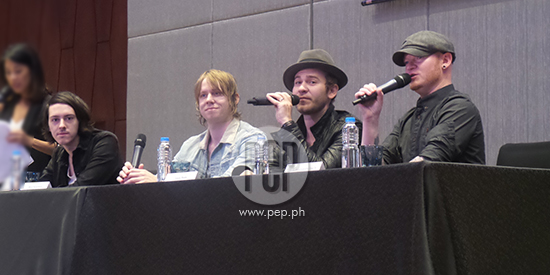 ---

It's been a while since we last saw alternative rock band Lifehouse perform live.
Seven albums and 16 singles later, Lifehouse members Jason Wade, Rick Woolstenhulme Jr., Steve Stout, and Bryce Soderberg made their way back to the Philippines for their third concert!
Their first two concerts in the country were held in 2008 and 2012.
Lifehouse is ready to rock the Philippine concert scene once again with their nostalgic tunes and a fresher take on their signature sound. For those who missed these Los Angeles-based rockers, the group is set to perform at the Mall of Asia Arena this Thursday night, October 8.

(To view photos from their Manila press conference, click: Alternative rock band Lifehouse wants to collaborate with Manny Pacquiao)



We listed down some songs you just might hear at their Manila concert tonight!


No Name Face (2000) -

Probably their biggest hit so far is"Hanging By A Moment," which hit the No. 2 spot on the Billboard Hot 100 charts. The single also won a Billboard Music Award for Hot 100 Single of the Year after spending 10 weeks in the Top 10.


2. "You And Me" from Lifehouse album (2005)

Their second massive hit is "You And Me" which peaked at No. 5 spot on Billboard's Hot 100 chart. To date, it has garnered 52,438,050 views on YouTube.


3. "First Time" from Who We Are album (2007)
4. "Broken" from Who We Are album (2008)
5. "Halfway Gone" from Smoke and Mirrors album (2009)

6. "Blind" from Lifehouse album (2005)

7. "Breathing" from No Name Face album (2001)

8. "Sick Cycle Carousel" from No Name Face album (2001)

9. "Spin" from Stanley Climbfall album (2002)

ADVERTISEMENT - CONTINUE READING BELOW
10. "All In" from Smoke and Mirrors album (2010)

Bonus tracks:


11. "Flight" from Out of the Wasteland album (2015)

12. "Hurricane" from Out of the Wasteland album (2015)