One fine evening, a word war was triggered online because of one photo.

Last October 8, the Lifehouse concert at the Mall of Asia Arena became controversial not because of the artists but because of the stars who watched the event.

In this instance, Maine Mendoza (more popularly known as Yaya Dub) was spotted by PEP.ph at the concert even though she was in disguise. She had a tan look and wore glasses, which she even compared to the Corazon character in Marimar.

In her Twitter account, Maine posted her photo (still in disguise) and provided the caption: "Sometimes it feels good to do something unusual and craaaazy.. Hahaha I had fun!!! #corazon"

It has been the usual habit of PEP to report on sightings of celebrities watching concerts.

In fact, some PEPsters send photos of their idols when they see them in public events such as these.

It will also be noticed that some galleries published carry the title #PEPspotted, indicating that it is a regular feature on this entertainment site.

However, a lot of fans of Aldub (Yaya Dub's love team with Alden Richards) reacted strongly to the use of her photo on PEP.

There were those who posted nasty comments on the Instagram post that showed Maine's photo. Some of the comments contained curses and bashed PEP for publishing the photo of the Eat Bulaga star.

To date, the harsh comments have been deleted from the IG post.





There were those who commended Maine for using a disguise so that she wouldn't take the attention away from the Lifehouse band, which invited her to the concert.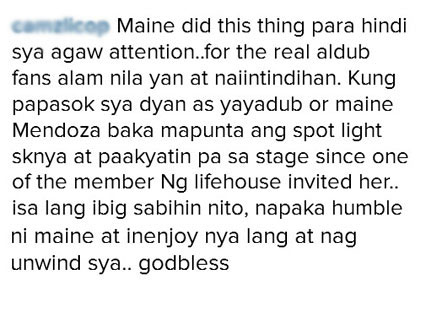 There were those who criticized PEP for posting the photo immediately since it might create a security problem for the popular star.







Others even said that it is forbidden to take photos of Maine, a public figure who was spotted in a public place.






There were concerns that Maine would be swarmed by fans at the MOA Arena.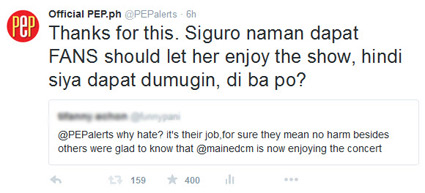 However, subsequent photos show that Maine was left alone at peace and was able to exit safely as she was accompanied by security personnel.

Others recognized that Maine is now a public figure, which is why the media is justified in documenting her actions.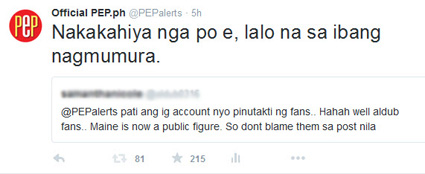 Some Netizens apologized on behalf of the overzealous fans.







As a final note, @PEPAlerts published this regarding the issue: "We're not going to explain further our post. She is a public figure and it's part of our job. Thank you."









PEPsters, what can you say about this issue?

Share your thoughts in the comments section below.