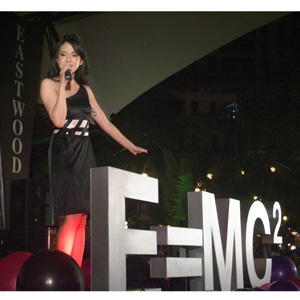 ---

Mariah Carey is already happily married to actor and rapperNick Cannon, but wedding vows and golden rings have certainly not hampered thistalented diva from still conquering the music scene.
Having been touted recently as the only artist ever to beatElvis Presley in having the most number of chart-topping hits worldwide, MariahCarey was hailed and honored last June 13 in Eastwood City, Libis. This victoryparty celebrated the smashing success of her newest album, E=MC2. This 14-trackalbum hit gold in the Philippines just eight days after its release, with itscarrier single "Touch My Body" effortlessly ruling the airwaves.
"Touch My Body" is Mariah's 18th chart-topper since hermusical debut in 1990. The success of this song also catapulted the 38-year-oldsiren to the Number 2 spotlight in the Billboard records—next only to TheBeatles, who had 20 worldwide hits, making them cling on firmly to the topspot. The King of Rock 'n Roll, Elvis Presley, had 17 hits in the Billboard charts.
ADVERTISEMENT - CONTINUE READING BELOW

ROYAL CELEBRATION. The posh victory party wasspearheaded by MCA Music Inc., allowing MCA Music artists perform covers ofsongs popularized by the sultry diva.
Richard Poon ("My All"), Dianne Elise ("Bye Bye"), Chicosci("Breakdown"), Miguel Escueta ("We Belong Together"), Pedicab ("Heartbreaker")and Zoo ("Always Be My Baby") all had explosive performances that were warmlywelcomed by Mariah's avid supporters seated in the audience. Collectivelycalled Mimi Lambs, these fans hooted and shouted as the singers rendered theirown cover of a Mariah song plus a song from their own repertoire.
The event set-up in Libis was quite elaborate, with black,purple, and pink balloons lining not only the stage, but also the mini-runwaythat cut across it. The catwalk was used primarily by models garbed inexquisite timepieces for the fashion show held during the event. In line withthe posh arrangements that pervaded the venue, a huge LCD screen was propped inthe center and repeatedly played Mariah's music video of her smash hit "TouchMy Body."
ADVERTISEMENT - CONTINUE READING BELOW
The event was hosted by Magic 89.9 disc jockeys Sam YG andSuzie, as well as MTV VJ and Bb. Pilipinas World title-holder Maggie Wilson.
ALL HAIL THE QUEEN. Aside from the recent release of the Mariah VIP Card, which entitles theowner to several discount privileges in select establishments nationwide, thesoulful siren also released a classy signature scent to match her sparklingpersonality.
With her own perfume line soon to be available in themarket, Mariah joins the ranks of Latina beauty Jennifer Lopez, pop princessChristina Aguilera, and hip-hop maven Gwen Stefani in having a signaturefragrance that mimics her vivacious outlook in life.
Labeled M by Mariah Carey, Mariah's newest perfumecollection aims to embody her beauty, femininity, and glamour—traits that havealways been associated with the singer throughout her eighteen-year career inthe music industry.
MARIAH IN THE PHILIPPINES? At the event, PEP(Philippine Entertainment Portal) took the opportunity to ask a representativefrom MCA Music Inc. if a concert of the Queen herself could possibly visit thePhilippines in the future.
ADVERTISEMENT - CONTINUE READING BELOW
"It really depends on her schedule," replied labelexecutive Katherine Choy. "Actually she was in Japan last time and we broughtsome friends from the media to be with her there," she recalled. "It's reallynot impossible. If we find someone who's really interested [to bring her here],then, why not?" she said with a smile.