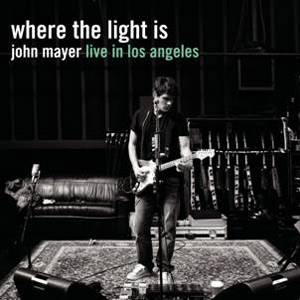 ---

When John Mayer performed at the Nokia Theater in LosAngeles last December 8, 2007, producers recorded three sets of songs to bepackaged as his first live recording since The Village Sessions (2006).


Where The Light Is—John Mayer Live in Los Angeles will be available inthe country by the end of the month. The 22-song 2 CD and DVD will be releasedlocally by Sony BMG Philippines. This presentation, directed by Danny Clinch,captures the multi-Grammy Award winning, platinum singer and songwriterin the element where fans love him the most: live on stage.


The special concert includes three sets: an acoustic performance, a rare setwith John Mayer Trio (John Mayer, Steve Jordan, and Pino Palladino), as well asa set featuring Mayer's full band. This will be John Mayer's new release since Continuum(2006). It incorporates each of the elements that the five-time Grammy-winneris known for—acoustic songwriter, electric guitar slinger, blues singer, andvocalist.
The 22-song 2 CD and DVD features a one of a kind song listmade up of the three distinct performances. Highlights include many of Mayer'sbiggest hits ("Waiting On The World To Change," "Daughters," and "WhyGeorgia"), new interpretations of cover songs ("Free Fallen'," "Bold As Love,"and "I Don't Need No Doctor") and a previously unreleased Mayer gem ("In YourAtmosphere").
TRACK LISTING.

Where The Light Is-John Mayer Live in Los Angeles


Acoustic Set
1. Neon
2. Stop This Train
3. In Your Atmosphere
4. Daughters
5. Free Fallin'
Trio Set
6. Everyday I Have The Blues
7. Wait Until Tomorrow
8. Who Did You Think I Was
9. Come When I Call
10. Good Love Is On The Way
ADVERTISEMENT - CONTINUE READING BELOW
11. Out Of My Mind
12. Vultures
13. Bold As Love
Band Set
14. Waiting On The World To Change
15. Slow Dancing In A Burning Room
16. Why Georgia
17. The Heart Of Life
18. I Don't Need No Doctor
19. Gravity
20. I Don't Trust Myself (With Loving You)
21. Belief
22. I'm Gonna Find Another You