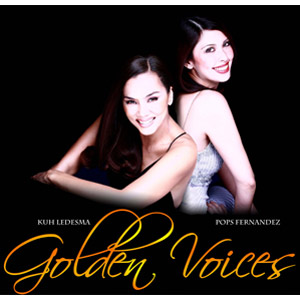 ---

In celebration of its 50th anniversary, the Public RelationsSociety of the Philippines (PRSP) will be holding a charity concert titled GoldenVoices: Divas in Concert featuring two of the most renowned singing iconsin the country today. In cooperation with ALV Productions, the event shall bringtogether stage performers Kuh Ledesma and Pops Fernandez as they deliverclassic hits on July 2 (Wednesday) at the Meralco Theater. The PRSP, consideredto be the country's premier organization for public relations professionals,has chosen Operation Smile and the Philippine School for the Blind as thebeneficiaries of this one-night concert.
Kuh Ledesma has a history of excellence to recall and morefruitful years ahead to look forward to. This pop diva has logged in 25 yearsof performances, more than 300 concerts and 18 albums in the local recordingindustry and numerous awards in the Philippine music scene. Indeed, she hasshown that she has what it takes to stay as a dominant figure in the localmusic scene and entertainment industry.
Likewise, Pops Fernandez, hailed as the country's undisputedconcert queen, has had a long and fruitful career in show business. Sincestarting out 25 years ago, she has never failed to attract large crowds to herbox-office concerts. A strong and independent woman, she has also beendescribed as the epitome of the modern Filipina.
With these two singing sensations front lining the musicalevent, the PRSP charity concert is sure to be a memorable night of musicaladventure, excitement, and goodwill.
Ticket prices are pegged at P3500, P2500, P2000 and P1500.For inquiries and coordination on this event, please call the PRSP Secretariatat telephone numbers 637-1116 or 637-1118. Or send an email tofull_circlecommunications@yahoo.com.
ADVERTISEMENT - CONTINUE READING BELOW