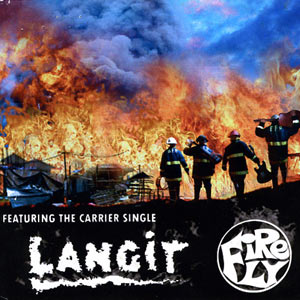 ---

From the syncopated strike on the snare to the electrifyingsound of the lead guitar and the bass, all bands make their mark by offering adifferent kind of entertainment to audiences. The FIREFLY band differentiatesthemselves from the competition by singing not only about love or heartbreakbut by articulating ways on how to prevent destructive fires.

The name of the band, which means FIREmen Forever Love You, first jammedtogether during the Bureau of Fire Protection (BFP) Christmas party in December22, 2002. Since then, the group continued to deliver their unique messagethrough original songs, most of which are compiled in an album titled Langit.This 10-track album has thecarrier single "Langit," which features Cesar Apolinario as the singer. It alsoincludes the tracks "Kasama Mo Ako" featuring Rico J. Puno, "Trapik,""Kalikasan," "Sunog," "Taong Grasa," "Mr. Bell," "Hoy!," "I Love You," and"Nasaan Ka Na."

In "Sunog," one will realize the importance of learning about fire preventionwhile listening to lyrics such as "Wag maging alipin sa kapangyarihan ng apoy /Di mo na maibabalik ang nasawing buhay sa sunog / Iwasan ang sunog / Dahil angsunog nakakakilabot."

The FIREFLY band is composed of three active firefighters who recognize thatthey have the primary responsibility not only to put out fires but also promotefire safety awareness among Filipinos. These are F/Chief Insp. Leonardo "Popoy"Sabellina Jr. (band leader, guitarist and vocals), Fire Officer 2 RichardErichson Malamug (lead gutiar and vocals), Fire Officer 1 Rhoderick Herrera(bass). They are joined by a civilian musician, Nowie Favila, who shares histalent in playing the drums.

After five years of performing together, the band decided to part ways in 2007,only to find themselves reunited in March 2008 for the Fire Prevention Month.The group was dubbed as the"Singing Firemen" in GMA-7 shows such as 24 Oras and Mel and Joey.In ABS-CBN, they were featured in the late-night show Bandila. It was at that time when the band met GMA-7 reporter and director of theaward-winning film Banal, Cesar Apolinario.

Upon learning about their advocacy, Cesar offered his services forfree—from conceptualization and scriptwriting to casting and directing—in orderto create their first MTV Sunog.
ADVERTISEMENT - CONTINUE READING BELOW
Firefighters are usually seen in protective coats and helmets as they rescuevictims and battle devastating fires. But these firemen decided to don civilianclothes and reach out to Filipinos through the power of music. Spreading themessage of fire safety awareness through their songs is an extension of theirduties—a noble endeavor that could hopefully reduce the casualties in fire-relatedincidents in the country.