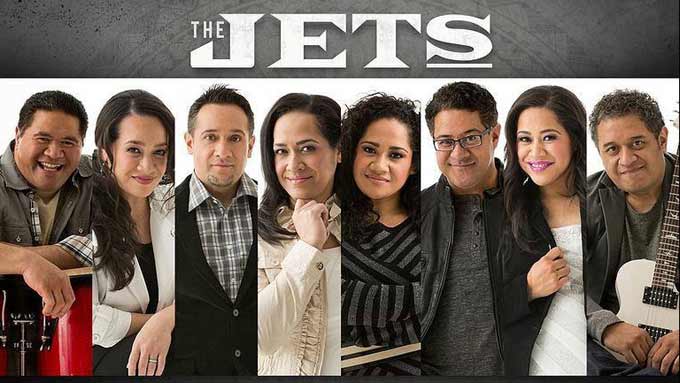 ---

The Jets is considered one of the best musical groups that dominated the '80s.

Composed of the musical family from the Polynesian Island Kingdom of Tongo, they are back in Manila for the third time to celebrate their 30th anniversary.

They are best known for their hit singles "Cross My Broken Heart," "I Do You," "Rocket 2 U," "Crush On You," "You Got It All," and "Make It Real."

The Jets,will be have a two-night performance of The Jets Live! 30th Anniversary Greatest Hits Tour at The Kia Theatre, Araneta Center in Quezon City on November 6 and at the Waterfront Cebu Hotel and Casino on November 8.

The Wolfgramm Family (Moana, Haini, Katharine, Leroy, Rudy, Eddie and Elizabeth) first made a name in Minneapolis, Minnesota in 1985. They were first known as The Polynesian Pearls and then changed to Quazar.

It was their manager, Don Powell, who later changed the group's name to The Jets. He got the name from the Elton John song, "Benny and the Jets," and also creating a look for the Polynesian group a la West Side Story.

The combined siblings talents propelled them to the music charts together with other '80s singers/groups such as Michael Jackson, Prince, Madonna, Cyndi Lauper, Duran Duran, Spandau Ballet, Culture Club, and even Menudo.

The Jets topped the U.S. Billboard Charts with no less than 10 hit singles and they were nominated for a Grammy in 1989 for Best R&B Performance by a Duo or Group for "Rocket 2 U."

After signing with MCA Records, The Jets received three Platinum Records and two Gold Record awards.

In 1988, they were invited to perform during the Olympic Games in Seoul, Korea.

Now, on their third time in the Philippines, The Jets are still looking forward for that fun Pinoy experience that they never forgot when they last performed in the country in 1998.

"It feels good to be back in the Philippines. We always have fun here because the Pinoys are so lively and they love our music. Hope that it's still the same this time around," says Moana during the press conference for their concert held last November 4 at the Hotel Novotel Manila, Araneta Center in Quezon City.

The music industry is very different now because of the rise of digital downloadable music. Even the performance of today's singers borders on risque material.

But the group will still deliver their best—the way the Pinoys like it.

"When we started, there were no CDs, iPods, iPads, smartphones, or MP3s to make our music sound better. We only have ourselves and our commitment to perform to our audience," says Haimi.

Tickets to The Jets Live! 30th Anniversary Greatest Hits Tour are now available at all SM Tickets and Ticketnet outlets.

For Manila, prices are: SVIP P6,800, VIP P5,600, GOLD P4,500, SILVER P3,600 and in Balcony, GOLD-LP4,000, and BRONZE P1,875.

For Cebu, prices are: SVIP P5,500, VIP P4,500, GOLD P3,000, and SILVER P1,000.

The event is a 100 percent local production by Random Minds Inc. and CTK Inc.
ADVERTISEMENT - CONTINUE READING BELOW