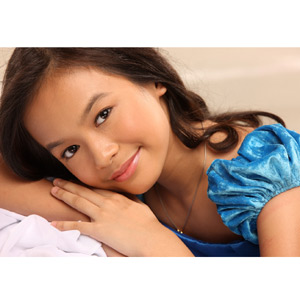 ---

Aria Clemente, 2007 World Championships of Performing Arts(WCOPA) Junior Grand Champion Performer of the World, has just released herdebut album titled Sing Like A World Champion Performer. This conceptalbum is produced by STAGES, in partnership with ABS-CBN's Star Records.
STAGES and Star Records have come up with this album for thetwelve-year old performer not only to officially launch her as a recording artist,but for children her age to have something they can use to sing along with.
"There are so many kids, like Aria, who love tosing. We've selected songs for kids,and included minus ones in the album as well. There are a lot minus ones in the market na hindi makanta ng mga batabecause the key is either too high or too low, originally meant for adultsingers. Aria's song choices can have any kid sing them comfortably. These songs are ready vocal accompaniment inschool programs, singing contests, town fiestas, and birthday parties. The album is primarily aimed at suchpurpose," says Carlo Orosa, co-producer and Aria's manager.
Album tracks include "Reflection," "GreatestLove of All," "Home," "His Eye is On the Sparrow,""Somewhere Over the Rainbow," "I Believe I Can Fly,""Tomorrow" (arranged by Gerard Salonga and performed with theFILharmoniKA orchestra), "Tagumpay Nating Lahat," "Got to beThere," "As Long as I Can Dream," and Enchanted Kingdom's themesong, "Everyday Enchanted." Most of the songs were arranged by PaoloZarate with Mon Faustino (for the track "Got to be There").
Aria will be back in WCOPA in Hollywood, California fromJuly 19 to 27. She will perform with fellow Filipino World Champion performerJed Madela in the opening and closing ceremonies.
Joining Aria and Jed in Hollywood are the members of2008 Team Philippines who will compete in this year's WCOPA: Junior vocalists Catherine Loria, CherryPalad, Glee Nette Gaddi, Rachel Razon, the Sison Brothers (Marek, Enzo, Ruiz),and Tippy dos Santos; and senior vocalists CJ Concepcion, Dex de Rosa, AbeDorado, King, Marielle Corpuz, Paolo Ledesma, and Panky Trinidad of PinoyDream Academy Season 1.
ADVERTISEMENT - CONTINUE READING BELOW
Aria will soon be seen regularly in ABS-CBN's comedy soap, Parekoy.She will also be the newest endorser of the Sta. Rosa, Laguna theme park,Enchanted Kingdom.