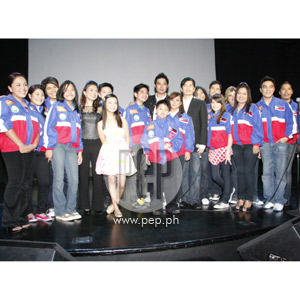 ---

A singer wearing a golden top hat, three young boys singinga capella, and a rocker belting the lyrics "Because I'm evil, my middle name ismisery" are just some of the attention-grabbing performances presented recentlyby the delegates for an international talent search competition to be held in Hollywood.And if you're competing against 5,000 acts from 40 countries, it pays to be astandout.
From July 19-27, hundreds of singers, dancers, and variousentertainers will compete in the United States for the chance to be known as"Junior and Senior Grand Champion Performers of the World." This year, 15singers from the Philippines will aim to being honor to the country once againjust like Aria Clemente and Reymond Sajor, who won top honors in last year'sedition.


Each of the 15 delegates performed 60-second snippets fromtheir repertoire for the benefit of the media during the July 3 pressconference at Teatrino, Greenhills. The walls reverberated with the powerfulvoices of the young performers, all of whom must prove their marketability andtheir entertainment value to the judges of the 12th World Championships ofPerforming Arts (WCOPA).
For Team Philippines, there are eight junior contestants(age 15 and below) and seven senior contestants (age 16 and above). The juniorcontestants are Catherine Loria, a singer from Lucena City; CherryPalad, a Trumpets Playshop alumna; Glee Nette Gaddi, the Departmentof Tourism's delegate to the 2007 Korea Travel Fair in Seoul; Rachel Razon,a Fil-Am pop and R&B vocalist; brothers Marek, Enzo, and Ruiz Sison,musical theater actors seen in the local production of Off Broadway hit musicalChildren's Letters to God, and Tippy dos Santos, who played Bellein Ateneo Children's Theater's production of Disney's Beauty and the Beast.
ADVERTISEMENT - CONTINUE READING BELOW
The senior contestants are CJ Concepcion, a singingnurse from Manila, Dex de Rosa, whp played Thuy in the Australianproduction of Cameron Mackintosh's Miss Saigon, Abe Dorado, aFilipina singer based in Milan, Italy; King, a Star Records' recordingartist; Marielle Corpuz, a singer from Nueva Ecija, Paolo Ledesma,3rd Avenue band's lead vocalist, and Panky Trinidad, a scholar inABS-CBN's Pinoy Dream Academy Season One.
Since the Philippines joined this competition dubbed as the"Hollywood Olympics," our representatives have won major awards beginning withJed Madela in 2005, the Cercado sisters in 2006, and Reymond and Aria in 2007.
This puts a lot of pressure on the delegates who are among75,000 performers who auditioned globally for this year's WCOPA.
How do the contestants deal with this kind of pressure?
"Malaki-laki po ang pressure because Kuya Jed set thestandard," says Panky. "He won the Grand Champion Vocalist of the World in 2005and in a way it's very good because in WCOPA, natatak na sa isip nila 'pagPhilippines, magaling. It's a very good thing and we're very proud of that.We're also doing this for our country po and not because we want to go there tohave fun. In the same way that Manny Pacquiao wins for the Philippines, we'realso doing it for all of us."
The former PDA scholar is set to release her solo debutalbum under Star Records.
Aria Clemente confirmed what Panky said by pointing out thateven the hosts of WCOPA have commented about the abundance of talents here inthe country. The young singer mimicked the emcee who told the audience, "ThePhilippines—land of the talents, if you want to get talents, go to thePhilippines."
ADVERTISEMENT - CONTINUE READING BELOW
But Jed recalls that they initially experienced discrimination whenthey joined WCOPA for the first time in 2005. He narrates, "During my time inWCOPA [in 2005], Orientals are being discriminated. If you're not white[Caucasian], they look down on you. I personally experienced this. They have adifferent outlook of the Philippines. They think we still live in huts, theythink we still walk barefoot, and they ask me if we have malls in thePhilippines. But with my win and Rizza Novales, we were somehow able to erasethat outlook."
This year, Jed has been invited to sit as one of the judgesduring the preliminary (Round One and Two) and semi-final (Round Three) roundsof the weeklong competitions.
He and Aria will also perform in the 2008 WCOPA openingceremony at the Universal City Walk, Hollywood on July 20, and in the finalsnight at the Grand Ballroom of the Westin Bonaventure, downtown Los Angeles onJuly 25.
For the Parade of Nations in the opening ceremony, Jed willsing "Go The Distance" from the Disney-animated film Hercules. On finalsnight, he will sing "You'll Never Walk Alone," a track included in his Platinumalbum Only Human. He willwelcome the new 2008 WCOPA Grand Champion Performers of the World by leadingthe song, "We are the Champions," by The Queen. His version is re-arranged by Filipino composer and arrangerArnel de Pano especially for this event.
On the other hand, Aria will perform songs from her newlyreleased album Sing Like A World Champion Performer in the opening andclosing ceremonies. Her album, producedby STAGES and ABS-CBN's Star Records, will be sold at the event.
ADVERTISEMENT - CONTINUE READING BELOW