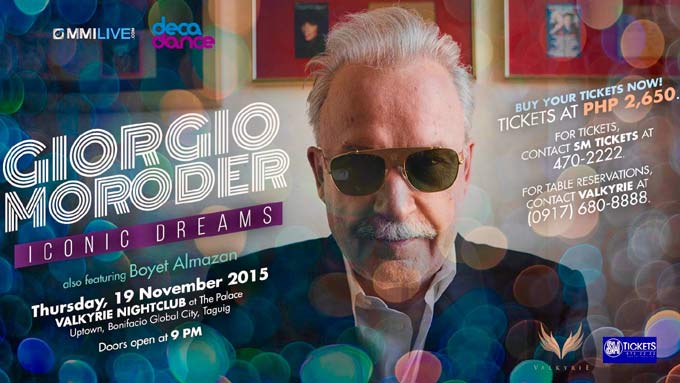 ---

The pioneer of Electronic Dance Music, Giorgio Moroder, is set to get the Manila crowd dancing to the classic EDM hits on November 19, 2015.

Also known as the Godfather of Disco, he will perform at Valkyrie Nightclub at The Palace, Uptown, Bonifacio Global City, presented by MMI Live and Decadance.

Moroder won three Oscars, three Golden Globes and four Grammys in addition to recently remixing Lady Gaga and Tony Bennett's "I Can't Give You Anything but Love" and Coldplay's "Midnight."

As Moroder brings us into a seventies and eighties time machine with a modern twist, come in your best retro ensemble and get a chance to win tickets to Madonna's Rebel Heart Tour in Manila on February. Or if you choose to steal the most iconic look of the Queen of Pop channelling that "Material Girl" outfit, then be among the first 20 patrons to enter Valkyrie for FREE!

The legendary producer and songwriter helped invent disco in the 1970s with Donna Summer's "I Feel Love," "Love To Love You, Baby" and "Bad Girls."

He also conjured the '80s synth sound of film scores including "Scarface," "Meet Me Half Way," "Top Gun," and "Reach Out" (featuring the vocals of Paul Engermann), a song written as a message of encouragement to the athletes of the 1984 Summer Olympics.

His mega hit "Together In Electric Dreams," sung by the British singer Philip Oakey, went on to be more successful than the film of the same title. "What A Feeling," sung by Irene Cara from the movie "Flashdance," was Moroder's massive hit that went to No. 1 on charts worldwide.

Moroder is officially the most veteran DJ in the world and a collaborator of the new Daft Punk's "Random Access Memories."

Recently, Moroder released his first solo effort in over 30 years with SONY/RCA with contributors like Sia, Charli XCX, Britney Spears, Kylie Minogue and more. His first single, the title track from the album, is bluntly titled "74 Is the New 24."

Experience one of the world's most illustrious musical talents has to offer on November 19, making this event arguably the biggest Disco party in Manila. The event at Valkyrie Nightclub at The Palace, Uptown, Bonifacio Global City will also feature performances by DJ Boyet Almazan.

Tickets are now available at Valkyrie Nightclub or at SM Tickets (smtickets.com or Tel. No. 470-2222). Doors open at 9:00 pm and tickets will also be available at the venue. For VIP tables and other inquiries, please call Valkyrie Nightclub at (+63)917-6808888.

This event is brought to you by MMI Live and Decadance, co-presented by Globe, Supported by FOX and Special Thanks to Johnnie Walker and the Marco Polo Hotel.


ADVERTISEMENT - CONTINUE READING BELOW