K-Pop group GOT7 successfuly staged their first fanmeeting in the Philippines this Saturday, November 14, at the Smart-Araneta Coliseum in Quezon City.
GOT7 is a seven-member idol group from JYP Entertainment composed of JB, Mark, Junior, Jackson, Youngjae, Bambam, and Yugyeom.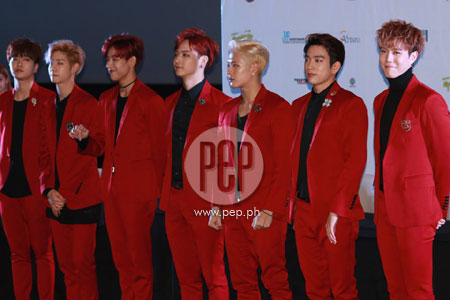 They made their debut in January 2014. And in that short time, they are now considered one of the most popular male K-pop groups in South Korea and around the globe.
This was proven during their first fanmeeting here in the Philippines where thousands of fans came to watch them.
During the fanmeeting, GOT7 performed eight songs; including their hits "Stop It Stop It", "Girls Girls Girls", "Just Right", "A", and their latest single "If You Do".
They also sang "Playground", "Magnetic", and "Bounce".
FOOD AND TAGALOG SONG. Since the event was a fanmeeting, the GOT7 members interacted with their Filipino fans, some of whom were lucky enough to mingle with the members via parlor games.
The Filipino fans also got the chance to know more about the members through the interviews conducted by host Sam Oh, who is also a Korean.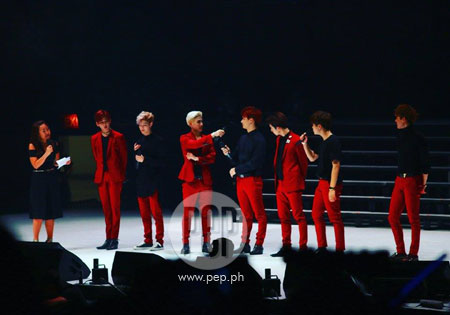 ADVERTISEMENT - CONTINUE READING BELOW ↓
GOT7 members were asked if they have tried any Filipino food since they arrived in the country yesterday, November 13.
Jackson, who is from hong Kong, immediately shouted "mango," while the other members mentioned "peanut dish" (kare-kare) and crispy pata.
Jackson and Mark, who are both good in English, also uttered some Tagalog phrases.
Jackson said: "Gusto ko kumain mangga."
Mark, who is an American citizen but has Taiwanese blood, told the Filipino fans: "Mahal namin kayo."
But Bambam, who is from Thailand, scored the most number of pogi points when he sang a verse of the hit Tagalog song "Ngiti."
"Ngiti" was originally sung by Ronnie Liang and was covered by Pambansang Bae Alden Richards.
"BamBam singing a tagalog song #GOT7inPH2015" pic.twitter.com/d7xsdX05hw

— nini (@selutatorian) November 14, 2015
On the other hand, the Filipino IGOT7s, the fandom of GOT7, prepared a special video message for all the members; some of the members became teary-eyed.
They also surprised Yugyeom, the youngest member of the group, with a giant birthday cake.
Yugyeom will be celebrating his 18th birthday on November 17, Tuesday.
YOUNGJAE'S ACCIDENT. The night almost ended on a sour note when Youngjae was accidentally hit by the fireworks during their encore number.
All members were in front of the stage when the fireworks suddenly went off, surprising all of them, and hit Youngjae in the body.
He immediately ran to the elevated part of the stage and checked his injury.
ยองà¹Âà¸ˆà¹'"นไฟ ??😨😨😨😭😭😭RT @ahjummanji: OMG YOUNGJAE WAS HIT BY THE FIREWORKS OMG 😱 #GOT7inPH2015 pic.twitter.com/fJz7fJkzX3

— B A M N O II (@I3amnoii) November 14, 2015
But as a professional entertainer, the show must go on, Youngjae went back and continued performing with his co-members.
The fanmeeting ended with a photo op and hi-touch with some very lucky fans.
THANK YOU. Shortly after the fanmeeting, some of the GOT7 members posted messages on their Instagram accounts to thank their Filipino fans.
Bambam, posted an Instavideo with a view of Manila nightlife from their hotel room and with the Tagalog song "Ngiti" as background music.
A photo posted by Mark Tuan (@mark_tuan) onNov 14, 2015 at 8:22am PST