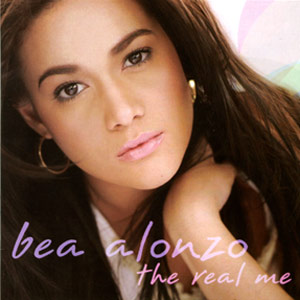 ---

In the dedication page of her debut album Bea Alonzo, TheReal Me, the I Love Betty La Fea star admitted that she has alwayswanted to demonstrate her vocal skills.
"It has always been my frustration to be a singer," writesBea Alonzo in her album. "But growing up after being a fan of Whitney Houston,Mariah Carey, and Regine Velasquez, I thought to myself, I can never be asinger. But thanks to my Star Records family especially to Tita Anabelle[Regalado, executive producer] and Jonathan [Manalo, overall album producer],they made me realize that you don't have to have a high-pitched voice to be areal singer."
She even gives this advice to aspiring singers: "You justhave to sing your heart out and be real." This is exactly what Bea did for herfirst full-length studio album, which is released by Star Records.
"Takut na takot po talaga ako, at the same time, majorlyexcited, dahil this is an endeavor na matagal ko nang pinapangarap, pero hindiko alam kung kakayanin ko. Pero with Star Records, they helped me, guided meand dinala nila ako sa panibagong chapter ng career ko, ang pagkanta. At sana,yakapin ng mga supporters ang bagong challenge na 'to sa buhay ko. Sanamaniwala rin sila sa akin katulad ng paniniwala ng Star Records that I canactually have an album of my own!"
ADVERTISEMENT - CONTINUE READING BELOW
For album producer Jonathan Manalo, Bea is a goldmine inmusic, "Her voice has a very distinct tone, making her very different amongstthe other singers. We at Star Records are honored too, as Bea teamed up with usto come up with this very good project."
Fans of Bea will want to get a copy of the album not just tohear their idol sing but also to see the glamorous photos of the Betty LaFea star, courtesy of Mark Nicdao, Chechel Joson and Jane Kingsu.
"I'm used to portraying roles that doesn't reflect my innerpersonality. It's the first time that I pour out my heart on this projectbecause it reflects the real me. I'm thankful to Star Records for giving me thechance and allowing me to have the free-hand on choosing the songs I like torecord and perform."
Included in her album are the songs "I'm Missing You," "You"by Jim Brickman, "Crazy About You," "Close To You" (original by Whitfield), "IWill Always Love You" (original by Michael Johnson) and "Kagandahan whichincidentally, will be the official theme song of Betty La Fea.
ADVERTISEMENT - CONTINUE READING BELOW
Bea Alonzo, The Real Me is now available in musicstores nationwide. For Bea fans in North America, her album is available at www.starrystarry.com