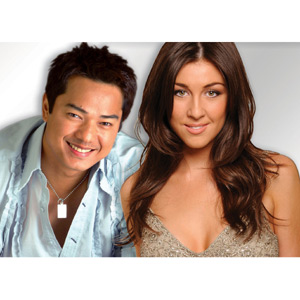 ---

Australian singer-songwriter Amy Pearson sings a romanticduet with Filipino singer-actor Ariel Rivera. The song is the inspiring track "Ready To Fly," the carrier single fromAmy's debut album Who Am I set for release this July under Sony BMGMusic.
Amy Pearson's standout and unique vocal delivery firmlyconnected with Ariel Rivera's suave and silky voice. "His voice is beautiful.It's great when a song can go from being this small thing in the studio totaking on a whole new world especially when it means to a whole new continenttoo. It's been a great duet and I can't wait to perform it [live] with him,"according to the 22-year old pop artist who also wrote the song.
The duet is yet another strong indication of Ariel Rivera'simminent return in the music industry. His last studio album In My Lifewas released way back in 2003. Since then, he has focused on his acting careerand appeared in various GMA-7 shows such as Atlantika and Kamandag.
ADVERTISEMENT - CONTINUE READING BELOW
Amy, on the other hand, first caught the attention of SonyBMG through Gary Barlow, front man for the UK boy band Take That. Since then,her sparkling persona and insightful lyrics have propelled her career everupwards. Her infectious rock/pop style and soulful delivery combined with anarray of well-written and intricately crafted songs have those in the knowalready very excited about her global potential.
Her debut album Who Am I is an introduction to ayoung lady who is considered as an international star on the rise. The album isa collection of 13 tracks, and resembles a personal diary of Amy's journeys inbecoming a woman and traveling the world. Her talent is displayed in a diversecollection of songs extending from shimmering pop gems like the single "Don'tMiss You," through to the catchy pop/rock hit "Does Anybody" and "We Both Know"a duet with Australian Idol Guy Sebastian. Her music encapsulates thefresh, youthful joys of life and the desire and heartache of earlyrelationships.
ADVERTISEMENT - CONTINUE READING BELOW
Discover who Amy Pearson is. Grab a copy of her album WhoAm I in record stores this July exclusively distributed by Sony BMG MusicEntertainment.