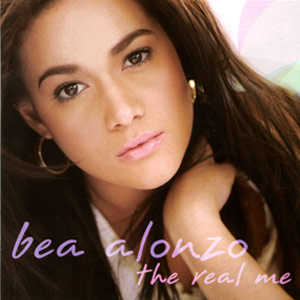 ---
"I'm missing you/ and it's making me blue, yeah/ I'm missingyou/ But what can I do/ I'm thousand miles away from you…"
The car's CD player played that song while my friend and Iwere braving the traffic on EDSA one Friday evening.
"Hmmm, that doesn't sound like Meja," said my road buddy,who, by the way, earned her Music degree (major in Voice) from the U.P.Conservatory of Music.
I replied, "Yes, it's not Meja. It's actually Bea."
"Bea??? Bea the upcoming Betty La Fea?" she almost screamed.
Bea Alonzo's The RealMe album is quite the anti-thesis of her sweet, charming and kikay image ontelevision and in the movies.
The lady singing the six tracks in the album shows a bit of spunk.
Her choice of cuts is very exploratory. I initially thoughtBea would go for Mandy Moore-type of songs, but I was wrong. Her choices combine both maturity and youthful sweetness. Her voice can be raspy,forceful, and also dulcet. Her emotions speak for a woman in love,heartbroken and hopeful.
THE SONGS. I likeher version of "I'm Missing You." She sounded a bit like Meja, but I was movedby the passion in her voice. I just felt she was sort of pouring her heart out.I can see the song as a potential hit.
Teens are likely to go crazy over "Crazy About You," one ofthe original songs in the album. The arrangement reminded me of Jane Arden's"Insensitive," and Bea's rendition can be likened to how pop-star dolls—likeBritney Spears, Hillary Duff, and even Rihanna—treat their songs.
ADVERTISEMENT - CONTINUE READING BELOW
Bea's "Close To You" deviates from the original piece, whichwas sang by Danish singer Whigfield. The song is now more upbeat, breezy, andsomething you can listen to while driving.
Another promising cut is "You," a composition by JimBrickman, while Bea's revival of Michael Johnson's "I'll Always Love You" willfind an audience in the young hopeless romantics.
The only Tagalog track in the album, "Kagandahan," is proof that the young actress also has what it takes to be part of the pop rockscene.
VOICE QUALITY. Onher album jacket, Bea wrote: "It has always been my frustration to be a singer…butgrowing up after being a fan of Whitney Houston, Mariah Carey, & RegineVelasquez, I thought to myself, I can never be a singer…"
The girl has no problem with hitting the right notes, andher voice is generally clear. In terms of style, she can do some yodeling andshe can sometimes go nasal. As my friend put it, "May babagayan ang boses niya.But the girl can really sing."
The budding singer also mentioned this in her album: "Youdon't have to have a high-pitched voice to be a 'real singer'.. You just haveto sing your heart out & be real."
And she's right.
Bea doesn't have the voice range of our famous divas here inthe country, but she definitely has the heart of a singer.