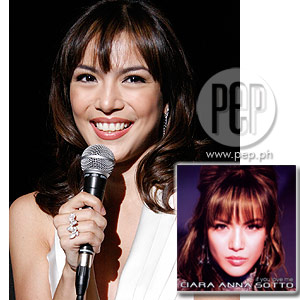 ---

"It's a labor of love." This is how Ciara Anna Sotto described her third album titled IfYou Love Me.
Ciara came home last June 30 for a two-week break from herrehearsals and training for the musical production Fever, which will beshown in Melanja at the Strip in Las Vegas. Days before she went back to Vegas, the 28-year-old singer released herthird album, If You Love Me under Sony BMG Records.
The young lady proudly said that she recorded the album injust five days with the help of her dad. The tracks included mostly old songs, most of which are close to Ciara'sheart. According to the youngest daughter of Tito Sotto, each song holds a story worth telling.
During the press launch held last Wednesday, July9, at the Teatrino, Promenade in Greenhills, San Juan City, Ciara sang some ofthe songs that she are included in the album.
The first song was "Kapalaran" originally sung by Rico J. Punoand produced by Tito Sotto. The latter hadalways wanted a girl to song the song and he gave this opportunity to hisyoungest daughter.
The second was "Balatkayo" of Anthony Castelo. Its original lyricist, Joey de Leon, changedsome of the words for the female version.
Then, she gave her rendition of the carrier single "If You LoveMe," which was originally sung in French, "Hymne a l'amour," by EdithPiaf. During the Q&A, Ciara toldthe press that this song caught her attention when she learned the sad storybehind it. She narrated, "Edith Piaf wrotethis for her boxer-boyfriend. Sincethey had been so busy, she invited him to fly over where she was performing soshe can sing to him this song. Theboyfriend flew but as fate would have it, his plane crashed and never got tohear the song.
ADVERTISEMENT - CONTINUE READING BELOW
Four versions of "If You Love Me," according to Ciara'sfather, were recorded. He said, "Ittook us a while to decide kung alin ang gagamitin because what she did, sherecorded a full English, English-French, English-Tagalog, and in fullTagalog. So, we decided na on thePhilippine version, Tagalog version [of the song]. But we will include a bonus track, 'yong original version of "IfYou Love Me."
The last song she performed live during the press conference was"Softly," which Ciara has always wanted to sing this since she was small. She also said that she would have includedthis in her previous album but her dad failed to include it.
In her album If You Love Me, it was clear that Ciara was comfortablesinging old songs. She explains, "Ourfamily loves music and my dad would always sing to me beautiful music since Iwas 12 years old. So, naririnig ko'yong magagandang songs. Kagaya noongnag-voice lessons ako sa Ryan Cayabyab, ang tinuturo din nila sa akin doon'yong mga songs from before."
She added, "I grew up singing songs from Broadway shows,which were in 1960s or something. So,nasanay ako nang ganun, mas meaningful 'yong mga songs dati, e, when you listento it. Now, it's so liberating,booty-shaking, a lot of the songs na I wouldn't call beautiful music."
WORKING WITH LOVED ONES. Another reason this album was described as labor of love becauseCiara was able to work with people close to her. One of these, of course, was her father who had been very hands-onin the making of this album. "My dadput so much in this album, " said Ciara.
ADVERTISEMENT - CONTINUE READING BELOW
When asked to give words about the album, the newlyappointed chairman of the Dangerous Drugs Board, Tito Sotto, became technical inexplaining how the album was created.
He explained, "If you will notice in the album, tatlo o apatna kombinasyon ng arrangers ang ginamit diyan, e, because one is based in LasVegas and the three is based here. Youcan see how the new technology of the world was used dahil pini-ping-pong namin'yong mga cuts. There were aboutaverage of 36 to about 52 cuts per song, iba-ibang mga albums.
"Homer Flores, the arranger of 'If You Love Me' at saka'yong 'Kapalaran,' used one of the few in the world orchestra programs thatactually costs about P500,000. So, weare enjoining you to listen to the entire album and you will see the quality."
The proud father also added that Ciara's album If You Love Me can compete with other albums abroad. He said, "Binagay lang namin sa mga taga-Las Vegas. Baka sabihin na tayong mga Pilipino hindikayang sumabay sa kanila. Sinabayanlang natin ang galing nila doon."
Aside from Ciara's dad, her Tito Joey de Leon also contributedto the album. He rearranged some of the lyrics and suggested that Ciara use her second name "Anna"in the album.
"Tito Joey came up with that idea," Ciara explained. "Sabi niya, 'Bakit di mo kaya ipasok 'yongisa mong pangalan?' Kasi first name ko rin naman ang Anna. Sabi ko, 'Tito, Bakit?' Sabi niya, 'Para may bagong marinig 'yongPhilippines sa'yo kasi ang tagal mong nawala, ang tagal na nilang walangnaririnig tungkol sa'yo, why don't you come up with something new, like CiaraAnna Sotto?'
ADVERTISEMENT - CONTINUE READING BELOW
"It was his idea, I respect the man, and his ideas arebrilliant. So, I did it. They introduced me in the [MannyPacquiao-Juan Manuel Marquez] fight and for the album, it's also Ciara AnnaSotto."
Lastly, Ciara gave credit to her fans who had beenrequesting her to do another album. "'Yong mga fans ko na nakakausap ko from Multiply, from other parts ofthe world. Sabi nila, 'Kailan ka ulitmagkakaroon ng album?' Kaya sabi ko, 'Oo nga, ano? Bakit hindi ako gumawa ulit kasi 2005 pa 'yong last?'"
Although Ciara would go back in Las Vegas to continue rehearsing for Fever, the young singer said that she would come backin the country every now and then to promote her album. The album will also have an international versionthat contains the English version of "If You Love Me."
TRACK LISTING.
1. Kung Ako Man ay Mahal Mo (If You Love Me)
2. Kapalaran
3. Charade
4. Finally
5. Some Enchanted Evening
6. Where Do We From Now
7. Balatkayo
8. Ang Tanging, Tunay Kong Pag-ibig
9. Somos Novios
10. Love Letters
11. Over the Rainbow
12. Fo the First Time
13. Two for the Road
14. Softly as I Leave You
15. (Bonus Track) Hymne to Love (If You Love Me)