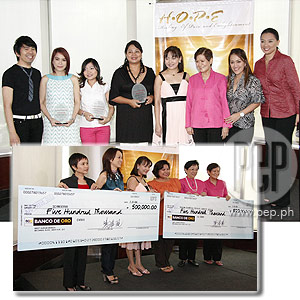 ---

Star Records hands over the sales of its 16-track album called H.O.P.E.(Healing of Pain and Enlightenment) to its beneficiaries—Bosom Buddies andI Can Serve—last July 10 at the 9501 Restaurant, ABS-CBN compound in Quezon City.
The inspirational music album has sold a total of P1 millionpesos, which were equally divided for the two beneficiaries that both supportwomen who suffer from breast cancer. The said proceeds will be used to support almost 200 cancer patientsundergoing chemotherapy and radiation treatments.
Some members of Bosom Buddies and I Can Serve were presentduring the turnover ceremonies. Theywere serenaded by some of the music artists who contributed in the album.
These were The Company, who sang "Seasons of Love;" Charicesang Whitney Houston's "I Have Nothing," which she performed when sheappeared in Oprah; and Jamie Rivera, who gave a heartwarming renditionof Beatle's "There are Places I Remember" and the church song titled "TangingYaman." These performers were each given a Plaque of Appreciation forparticipating in the album.
Also present in the event was the head of the Pinky CaresFoundation, Pinky Tobiano, who produced the H.O.P.E. album. She expressed her gratitude forStar Records who agreed to make this compilation of inspirational songspossible.
Pinky, who is also afflicted with breast cancer, saidthat she was motivated to create the album "because I know that this album is away that I can help alleviate the pain and the sufferings that goes through withcancer without taking medicines."
The 38-year-old chemist added that she wanted to be aninspiration to other cancer patients like her. Her words of wisdom for those with the Big C: "Cancer is not theend of everything but a start of something new."
With the success of the H.O.P.E., Pinky and StarRecords are now planning to have its second installment, which will be releasedby December.
ADVERTISEMENT - CONTINUE READING BELOW
When asked what advice she can give to other cancerpatients, Pinky positively replied, "Well, make God as the center of your lifeand it's good to have a support group. So, find a positive support group that will make you uplift and willmake you happy and not feel that you have just a few more months to live."

TRACK LISTING.

1. Narrative Intro - Pinky Tobiano
2. Prelude In C Major From Well Tempered Clavier - Pianne Tobiano Sinfuego
3. Lift Up Your Hands - Gary Valenciano
4. Empty Space - Empty Space
5. Something Good (Appears Courtesy Of Viva Records) - The Company
6. Count On Me - Toni Gonzaga
7. Will Of The Wind - Jamie Rivera
8. Smile - Charice
9. You Lift Up Of Life - Jon Joven
10. Here Am I - Gary Valenciano
11. No Rewind, No Replay - Jose Mari Chan
12. Time And Love (Appears Courtesy Of Viva Records) - The Company
13. In My Life - Jamie Rivera
14. Umagang Kay Ganda - Carissa Cruz and Jasper Manalo
15. My Offering - Fatima Soriano
16. Narrative Outro - Pinky Tobiano