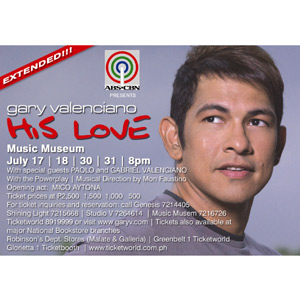 ---

Gary Valenciano is grateful for many things the past 25years he's been in showbiz. Those who have consistently watched Gary's concertsor regular Sunday appearances on ASAP know that there is one thing henever forgets, and that is to attribute his success to God.
God's love has been the driving force behind Gary'ssuccessful career. So it was very appropriate that the concert to markhis 25th anniversary was titled His Love. Held at the Music Museum andfeaturing the combined talents of Gary and his sons Paolo and Gabriel anddaughter Kiana, the show was such a hit that people who weren't able to catchit clamored for a repeat.
During his recent U.S. tour with Martin Nievera as specialguest, Gary wowed international audiences and received several standingovations at the Nokia Theatre in Los Angeles, Stockton Arena, Stockton,California and at the Comcast Arena in Everett, Seattle, Washington. This July,Mr. Pure Energy gives in to requests for a repeat of his sold-out concertseries.
The His Love repeat will be on July 17, 18, 30, and31 at the Music Museum. The proceeds of the concert will benefit of ShiningLight Foundation and Operation Blessing Foundation's efforts to reach out tothe victims of Typhoon Frank. After the Manila shows, Gary will bring HisLove to the Summit Centre in Zamboanga City on July 25 with Paolo andGabriel, brothers Joshua and Jason Zamora of the Manoeuvres, and the PowerplayBand under the musical direction of Mon Faustino.
For both shows, Gary promises to bring back all thehighlights of the first Music Museum run, including the numbers featuringPaolo, Gabriel and Kiana, which were among the most applauded. Paolo and Gary'sBeatles Medley proved that in terms of vocal prowess, Paolo, at 23 years old,has no problems holding a candle to his dad.
Gab, known for being the child that inherited Gary's talentfor dancing-in fact, he's now called Mr. Pure Power to his dad's Mr. PureEnergy, a monicker that underscores that he is definitely his father's heirapparent-did a duet with his father on the song "Shake It Off." Incidentally,Gab is also quite the producer/musician: he was responsible for the newarrangement of "Shout For Joy," one of the cuts included in Gary's recentlyreleased Rebirth album under Universal Records.
ADVERTISEMENT - CONTINUE READING BELOW
Kiana, of course, wasn't about to be left out. During thefirst Music Museum shows, she impressed the audience when she hit the highnotes on Alicia Keys' "If I Ain't Got You," traditionally one of the mostdifficult R&B hits to sing. But what really brought the house down was whenKiana sang one of her dad's biggest hits, "'Wag Mo Na Sanang Isipin," with GaryV. The number had the Music Museum audience on its feet.
Also to look forward to in the His Love repeat isGary's By Request Medley featuring Gary's greatest hits like "Reaching Out,""Natutulog Ba Ang Diyos," and "Narito." The energetic singer performed "Anak"(arranged by Danny Tan) in Japanese, Portuguese, English and Tagalog as atribute and thank-you to his three children. He also dedicated this song to theFilipino youth, whom he sees regularly during his visits around the Philippinesin his capacity as National Ambassador for UNICEF.
There is plenty more to look forward to in His Love,which one reviewer has described as a virtual song, dance and visual feast withat least six monitors projecting dazzling graphics and images and consisting of"more than 90 minutes of awesome dance moves and at least 40 songs in whole orre-arranged as medleys." It is a concert that showcases Gary V. at his verybest.
His Love is also said to be a preview of the bigger,more spectacular 25th anniversary concert that Gary will be staging at theAraneta Coliseum in November.
As he marks his 25th year in the business, Gary says he isexcited, rather than nervous. After being in the business this long, and havingfaced different trials and challenges (all of which he has surpassed, thanks toGod's love), he is ready for what is to come.
In fact, he's excited to see it unfold, to find out what Godhas in store for him. "It's facing the unknown that makes things exciting tome," he said. "It's not about new things to do, but new things to give back.I'm really eager to find out what the next 25 years will be like."
ADVERTISEMENT - CONTINUE READING BELOW
Tickets to Gary V.'s His Love The Repeat are pricedat P2500, 1500, 1000 and 500 and are available at the Music Museum (721-67-26),Manila Genesis Entertainment (721-4405 loc. 201) and at all Ticketworld outletsor call 891-9999.