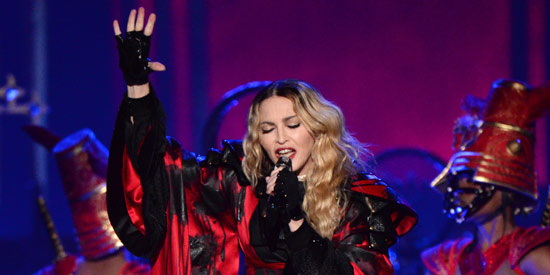 ---

Madonna fans Kathrine Martinez and Mylene Manuel had the biggest music experience of their lives when Globe Telecom brought them closer to their idol at her Rebel Heart Tour concert in Los Angeles, California, USA last October.
Martinez, a Tattoo Home customer, and Manuel, a Globe Prepaid customer, were the lucky winners drawn from millions of entries for the Globe Rebel Heart Tour Raffle Promo. Upon subscription to Globe or Tattoo services, customers earned entries to win an all-expense paid trip to catch Madonna's Rebel Heart Tour concert in Los Angeles, whose lucky winners were Martinez and Manuel, or tickets to Madonna's Rebel Heart Tour concert in Manila on February 24, 2016.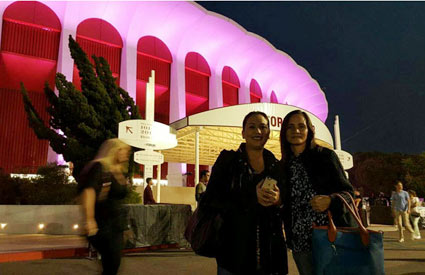 Globe Rebel Heart raffle winners Kathrine Martinez and Mylene Manual at the Forum, all set for Madonna Rebel Heart LA
ADVERTISEMENT - CONTINUE READING BELOW
Martinez and Manuel won the LA flyaway package, which included roundtrip airfare, 3-night hotel accommodation and $300 pocket money each.

But the highlight of their trip was the exclusive Rebel Heart Tour concert experience made possible by Globe in collaboration with MMI Live & Live Nation, promoters of Madonna's Rebel Heart Tour. The winners were given an exclusive backstage tour where they witnessed how the grand production was done from behind-the-scenes. They were also treated to pre-concert cocktails at the Rebel Heart VIP lounge. And best of all, they had front row seats inches away from The Queen as she performed on stage her Rebel Heart hits and her iconic songs for almost 3 hours non-stop.
Manuel recounts her Rebel Heart Tour LA experience, "It was one for the books. Together with the other winner, Kathrine, we were treated like VIPs. We were able to enter the Rebel Heart Lounge, which was only meant for select VIPs. We were also given a backstage tour. We had some of the best seats in the concert. We were so close to the stage that we could actually hold Madonna if ever she held her hand out. Also, we were able to see Michael Weatherly, Ashton Kutcher, and Katy Perry who joined Madonna on stage in the latter part of the show."
ADVERTISEMENT - CONTINUE READING BELOW
"Watching her live, up close (really close) and personal was a huge moment for me. I have always wanted to see her perform live because she truly does entertain. The lights, the stage, the productions, the dances, and the songs—everything was perfect, designed to entertain and amaze. I think if you see my horrible selfies you will see that my excitement is just palpable, my smile sort of jumps out of the fuzzy image," shares Martinez on her bucket list moment.

Just like a true Madonna fan, even if Martinez already saw the LA tour, she would still go to the Madonna concert in Manila in February.

"I have tickets to her Manila concert and after watching her in LA, I am just so excited to watch again. So I guess that just shows that watching her is really worth it. Not just because I am a fan but also because she delivers a concert performance like no other. In fact, I have been telling my friends that to see Madonna live is worth every peso. I believe it would be difficult to top her show. If you still have the chance to get tickets, do so. You won't regret it."
ADVERTISEMENT - CONTINUE READING BELOW
Manuel shares the same sentiments, "Buying a ticket for the forthcoming Madonna show is definitely worth it. There is simply no artist like Madonna and watching her concert will leave you in awe and wanting for more. The concert is one of the best. To all Madonna fans, don't fail to catch this once in a lifetime chance to see her concert in Manila."
Aside from the two Madonna Rebel Heart Tour LA concert winners, other Globe customers are also set to see Madonna up close and personal for free when the Rebel Heart Tour comes to Manila on February 2016.

Lucky Globe customers Imelda Infante (PATRON); Ivy Rose Caleon, Brendaly Gatip, Arcel Cabaong, Rowena Punzalan, Marcela Ramos (LOWER BOX); Robert Cordero, Tomas Asis Jr., Dionisio Beriso Jr., Charito Tacud, Cherry Ann Pangilinan (UPPER BOX); Elmer Romero, Analyn Lopez, Rhey Tolentino, Abegail Glaraga, and Serna Roque (GEN AD) get 2 tickets each to the Manila concert.
ADVERTISEMENT - CONTINUE READING BELOW
Madonna fans in the Philippines also have the chance to catch her live at the Rebel Heart Tour Manila presented by Globe at the Mall of Asia Arena on February 24 & 25, 2016 with tickets available at SM Tickets.

A special offer is also available for Lower Box ticket buyers who can avail of the tickets at 0% interest for a 6-month installment plan.

For inquiries, please call SM tickets at Tel. No. 470-2222 or log on to www.smtickets.com.
Watch out for more ticket deals from Globe by visiting www.globe.com.ph/BeOnewithMadonna and following Globe on Facebook, Twitter & Instagram.