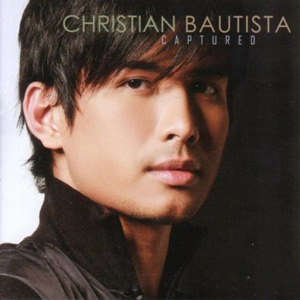 ---

"Ang masasabi ko diyan sa album na iyan, walang tapon."
This is how Christian Bautista described his third albumtitled Captured during the press launch held yesterday, July 16, at theRed Box Karaoke, TriNoma in Quezon City.
He further explained, "Walang tapon sa CD na iyan. 'Yong gusto namin, kapag nagtratrabaho kamisa Warner, lagi dapat lahat ng songs, potential singles."
The 27-year-old balladeer was so proud that he was able toput out an all-original album, something different from his previous albums thatcontained mostly cover songs. In fact,he said initially had doubts about making this album since most musicians were doing cover songs.
"Medyo nagdalawang isip nga ako," Christian narrated, "'Anokaya, ready na ba ako dito? Mag-all-original na ako?' Pero kapag nakakarinig ako ng original song na hit sa radio,whether foreigner or not, at least may hope.
With all the twelve original songs in the album Captured,Christian realized that it's still possible to satisfy listeners even withoutrevival songs. "Pwede pa rin talaga, it just has to an exceptional songthat will really touch some people's lives and they can sing along. It's risky pero pwede pa rin talaga. This is taking the harder route kumbaga."
Talking about exceptional songs, Christian hopes that anothersong from his latest album would be able to touch the heart of hislisteners.
"Dpat mayroon ding kanta dito na mag-top pa sa 'The Way YouLook At Me' para magkaroon ulit ng another big hit because that what singers orperformers really need. As I've said a while ago we are competing with the restof the world already, hindi na lang tayo," said Christian.
ADVERTISEMENT - CONTINUE READING BELOW
He was worried that he might not be able to live up to thetitle "Asia's Pop Idol" given to him by Warner Music Philippines. His second album, Completely,achieved platinum status in Indonesia; while its single "The Way You LookAt Me," became a number one song in Singapore.
"Parang dapat talaga itong album na ito, e, ma-push namin tothe extent na talagang maghi-hit ulit siya sa Asian market, Malaysia orSingapore," said Christian.
Amidst the pressure, the Star In A Million alumnus said thatpeople close to him were there to support him. "Ang sinasabi nga nila, 'It's not that, Christian, it's because nagawamo na so that's why this is the title. So, this is just a follow-up.' So, hopefully it'll get the same success like the first one."
BALLADEER TRIES NEW GENRES. Christian's third album Captured offersdifferent types of music. "Meron diyangbalance—parang may movie theme, mayroon Tagalog, merong parang R&B. It's still all about love," saidChristian.
Aside from this, Christian was also thankful that he wasable to work with different people from the music industry—like Ogie Alcasid,who wrote "Could Have Been The One;" Martin Nievera, who wrote "Forever In YourEyes;" Jimmy Borja, who contributed the lyrics of "Nakalimutan Kong Sabihin;"and Acel Van Ommen (formerly of Moonstar 88); for the song "I Believe." But what brings him pride is the inclusionof a song written by his younger brother Joshua—anacoustic track titled "Hope."
Christian said that Joshua is not really a singer but heis fond of writing poems. "Talagang nagsusulat lang siya ng mga random thoughtslang niya na nabuo niya at naging poem, 'tapos, 'O, pwede ito, ah,' 'tapos pinasoknamin [sa album]."
ADVERTISEMENT - CONTINUE READING BELOW
Before the press conference started, Christian performed the album's openingtrack called "The One Who Won My Heart." Its music video, shot entirely at the Heritage Park, was alsoshown to the invited media people.
"'The One Who Won My Heart' is the typical ChristianBautista ballad and, well, it's close to my heart right now," said Christian.
Another person who participated in the creation of the albumwas Andrew Fromm, the man behind the word of Christian's signature song "The Way YouLook At Me."
The singer was delighted to work with the songwriter againespecially since the new song is not the typical ballad songs that he performs. "What's cool about Andrew Fromm isnakakagawa siya ng different kinds of songs. Last song na ginawa niya sa akin is 'She Could Be' sa second album,medyo rock ng konti. Itong 'Creation,' medyo R&B ng konti."
The album would also feature the other side of the BossaNova Queen Sitti. They performed a duetin the album title track "Captured."
"For Sitti fans nga, this is not Bossa Nova, this ispop. So, it'll be exciting for them tocheck it out and how we do our duet, kasi it's another side of Sitti. At sakamasaya siyang kanta," he described.
The 12-track album was released two weeks ago and Christianexcitedly told the press that it is doing well in the market.
Captured
will be officially launchedthis Sunday, July 20, on ABS-CBN's Sunday variety show
ASAP
'08.
TRACK LISTING.
1. The One Who WonMy Heart
2. Creation
3. Take a Ride
4. I Believe
ADVERTISEMENT - CONTINUE READING BELOW
5. Hope
6. Limutin na Lang
7. Just This Time
8. Nakalimutan KongSabihin
9. Forever In YourEyes
10. Could Have Beenthe One
11. Captured
12. I Want to be the One