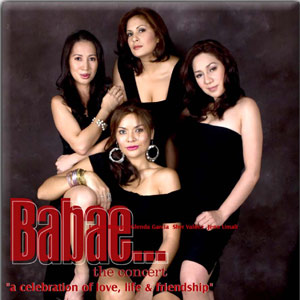 ---

What happens when four friends—women with differentpersonalities, with their own views about life and love, with similarexperiences and with the same passions—get together for a night of songs,laughter, and a little chit-chat about almost everything under the sun?
Find out what happens when Lovely Rivero, Glenda Garcia,Shyr Valdez, and Jenn Umali let you into their worlds through their music in ashow titled Babae...the Concert scheduled on Friday, July 18, at the Teatrino inGreenhills, San Juan.
This concert features special arrangements—TheCarpenters' Medley, OPM Love Song Medley, Disco Medley, and others—that have beenspecially prepared by musical director Norie Sayo. It's the ultimate girls'night out! The four artists take you on a musical journey as they sing andtalk about love, lust, friendships, heartaches, failures, and triumphs that areprimarily for women, but men are definitely invited as well!
Babae...theConcert is brought to you by Ace Entertainment.
For ticket inquiries, call or text 09175352567.