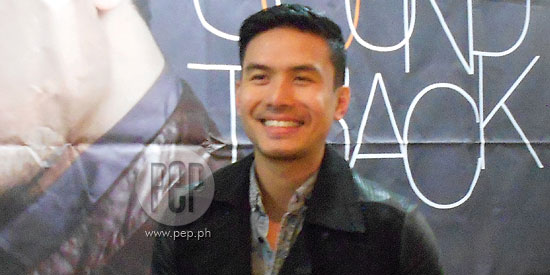 ---


Christian Bautista's efforts of broadening his horizons and reaching new markets are paying off.
His first digital single, "Who Is She To Me," started out strong in the United Kingdom when it ranked 44th in the iTunes UK Top 50.
"It's experimental, it's parang suntok sa buwan," the GMA-7 singer-actor admitted during a blog jam last Thursday, December 3.
"It's my chance to try, so I did that by partnering with international producers," said the Filipino balladeer, whose popularity has reached Asian countries, particularly in Indonesia.
For the said single, Christian collaborated with international musicians, such as Christian de Walden who produced hits for legendary artists Anne Murray and Engelbert Humperdinck.
Apart from de Walden, Christian also worked with composer Michael Shepstone of the band The Rockes and Clive Lukover of BBC1, as well as Randy Kerber, an Oscar nominee and Grammy nominee.
Asked why he chose to release his digital single in the United Kingdom, Christian explained, "Right now in the music scene, andami-daming nag-originate from the UK lately.
ADVERTISEMENT - CONTINUE READING BELOW
"Parang it's setting the standard lately. I feel parang mas maa-appreciate ng UK ang ballads, that's my core strength, so that's one of the reasons."

A few days ago, Christian's ex-girlfriend, Rachelle Ann Go, helped him promote by asking her 2.23 million Twitter followers to check out his new song.

Rachelle is currently in London for the West End staging of Les Miserables.



Oh hi @xtianbautista Ÿ'‹ fanS pala kita Ÿ˜' check his new song guys! https://t.co/KUzgUQfYGO

— Rachelle Ann Go (@gorachelleann) December 2, 2015

While Christian is happy with the initial positive reception for his single in the UK charts, he stressed that it's still a long way to go before he can truly claim that his efforts to penetrate the said European country is a success.
"It floats. Sometimes it's in, sometimes it's not, so it depends.
"That time when we saw it, it was in already.
"I was very happy na nakapasok siya.
"So hopefully we can tell our Pinoy fans in the U.K., to buy it and to download it. Very happy for the initial success."
ADVERTISEMENT - CONTINUE READING BELOW
He is hopeful that he can eventually penetrate the European market.
"That there is a chance to anyone with a dream, with the right people, right connections, with the song I guess," he said.
He added, "Yun naman ang dream lahat ng Filipino artists.
"Right now, I'm in the state of what else can I do? What else should I do while I still look 23 years old," said the 34-year-old singer.

"I've done movies, teleseryes, musicals, I've been to Indonesia, Malaysia.
"So while I still have the strength, parang I wanna try other territories."