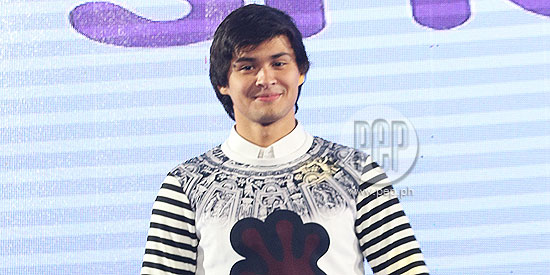 ---
Matteo Guidicelli is hoping that his first solo concert, titled MG1, will have a repeat next year.
"I hope we're gonna have a repeat. It was very successful, we're soldout, people were standing already," said Matteo in a short interview prior to the launch of Boardwalk's Share advocacy campaign last night, December 3.
The Kapamilya actor-singer also expressed gratitude to all the fans who came to see him perform live at his concert last Saturday, November 28, at the Music Museum.
He said, "I'm very, very blessed that people enjoyed it. Thank you very much for all the support from fans."
Ater Matteo's concert, his producer posted a photo with him and his girlfriend, Sarah Geronimo.
The couple have previously stated that they want to separate their career from their personal relationship so in a recent interview, Sarah said she wasn't sure if she could go to Matteo's concert.
Still, Sarah was able to attend her boyfriend's first solo concert. Although, the singer-actress just stayed backstage.
ADVERTISEMENT - CONTINUE READING BELOW
When asked about this, Matteo briefly said, "She was just there to support. She's out of the limelight because that's my first solo [concert]."
Will fans expect the same gesture from Matteo at Sarah's From the Top concert tonight and tomorrow night?
"I don't know, it's her night," he replied.
Then, he gives a hint on what concertgoers can expect from his girlfriend's concert," She has something special for everybody. It's a two-night show and it's different for everybody.
"They're not gonna expect what Sarah has, she's really good. She's been working hard for this."