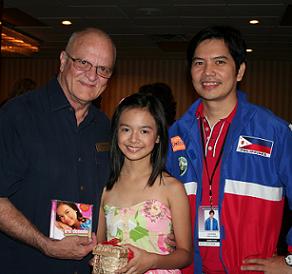 ---

LOSANGELES, CALIFORNIA—Twelve-year old AriaClemente presented her debut album Sing Like A WorldChampion Performer to GriffO' Neal, founder and president of the World Championships ofPerforming Arts (WCOPA)or "HollywoodOlympics."


CarloOrosa, WCOPA Philippine national director, joined Aria and herparents at a welcome party held for all national directorsrepresenting around 40 countries at the Westin Bonaventure Hotel indowntown Los Angeles Friday night (July 18). Joining this year for thefirst time is Singapore, represented by Kuo Po, who happens to bemanaging young Filipina singer Julia Abueva.



Orosasays, "Apart from the competitions, there will be invaluablefree seminars that delegates to this year's WCOPA (now on its 12thyear) can learn from. Seminar topics range from How toBreak into Hollywood Show Business; Acting for Singers conducted byMatthew Dickens of ABC Television; Auditioningfor a Singing Role on Broadway; Acting in Hollywood, conducted by DaveShalansky of AIA Actors Studio, among others."
There will also be a special seminar that would discuss the processof applying for work visa in the U.S. for talents who are seriouslyconsidering a career in Hollywood.



WCOPAGrand Champion performers from the Philippines, Aria Clementeand Jed Madela,will open thisyear's competitions at the Universal City Walk on Sunday, July 20, at9:30 a.m. International press and media, including ABS-CBN's TFC andGMA Pinoy TV News, will cover the events this year.