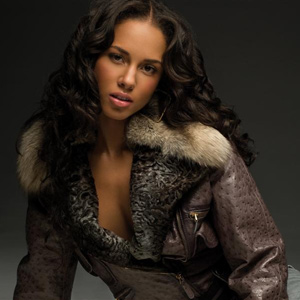 ---

American R&Bsinger-songwriter Alicia Keys will be performing once again for her Filipinofans on August 5 at the SM Mall of Asia concert grounds. The superwoman behind the hits "No One," "Diary," "If I Ain't Got You,"and "Fallin'" performs for this special event under the MTV Philippines ConcertSeries.
Opening the show titled As I Am is thecountry's"King of R&B"Luke Mejares, and L.A.'s DJ MightyDunx, popularly known in the country as Duncan Ramos, the former vocalist ofSouth Border.
Alicia Keys is a multi-talented and multi-awarded artist best known forher solid songwriting, a vast dynamic range, thundering rhythms, and vocalharmonies. TIME magazine named Alicia as one of "The MostInfluential People in the World" in 2005.


At age of 27, Aliciais an eleven-time Grammy Award winning artist whose debut record Songs In AMinor went on to sell more than 10 million copies. Alicia's criticallyacclaimed follow-up album, The Diary of Alicia Keys, has already soldover 7 million copies worldwide. Her third album, simply titled Unplugged, debuted at number one and hassold one million copies in the United States and two million copies worldwide.Last year, Alicia released her latest album, As I Am, which hassold over one million copies in two weeks of its debut. Furthermore, the leadsingle, "No One" earned Alicia the awards for Best Female R&B VocalPerformance and Best R&B Song at the 2008 Grammy Awards.


Not only is Aliciaan extraordinary musician and best selling author and ingenious producer,Alicia is also a humanitarian and philanthropist. As one of the ambassadors forthe charity Keep A Child Alive,Alicia has raised funds and awareness to provide lifesaving AIDS/HIV medicinesto children in Africa.
This concert marks the second time that Luke Mejares will be sharing the stage withthe female R&B artist. Luke opened the show for Alicia Keys' first gig herein Manila four years ago.
ADVERTISEMENT - CONTINUE READING BELOW
Luke left South Borderand came up with his solo album in 2004. Titled Stop Luke and Listen, this album spawned the hits "PaanoNa" and "214" that earned for Luke the Philippine Hiphop Awardas Male R&B Artist of the year in 2005. His second album, Pangako, has 11 songs that express thepositive things happening in his life. It has taken him three years to releasea follow up to his debut album because Luke wanted to bring out his creativityfor this CD released under Sony BMG Music Entertainment. Pangako also marks Luke's debut as an album producer.
Another South Border former front-liner willbe headlining the Alicia Keys As I Am tour. Duncan Ramos, who has beenin the U.S. for quite some time now, will be staying in the Philippines for aseries of shows including a performance to open the Alicia Keys concert.
Duncan joined South Border in 2002 whilesharing vocal duties with Vince Alaras. The two new talents danced and sangtheir way to fame. They provided a fresh and youthful take on South Border,giving the band gigantic commercial success with hits such as "Rainbow" and"Ikaw Nga." In 2004, the band released their first album under their ownindependent label. Episode IIIfeatured an edgier, danceable R&B sound that included songs such as "TheShow" and "Brown Hand Smash."
For tickets to this triple-header concert, call TicketWorld at891-9999. For more information, keep tuning in to MTV Philippines on Sky Cablechannel 57 or log on to www.mtvphil.com.