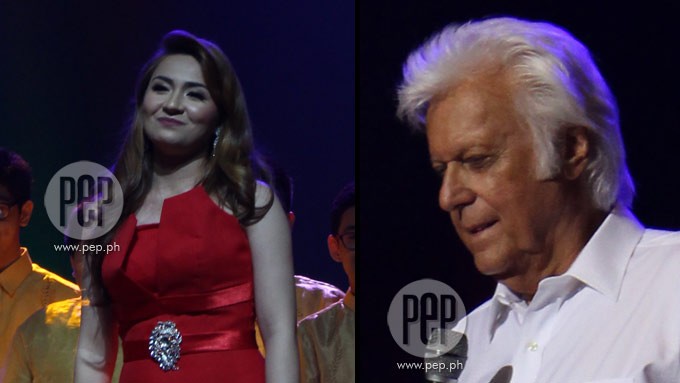 ---

OPM legend Jose Mari Chan said that he was "in love" with the voice of Gerphil Flores.

The second runner-up of Asia's Got Talent was visibly flattered by this compliment from Jose Mari Chan.

This was just one of the highlights of the concert dubbed Jack Jones Sings Songs From the Heart.

A grand piano was set up at the KIA stage during the event that was held at the KIA Theatre, Araneta Center in Quezon City.

To open the concert, the Kilyawan Consortium of Voices sang Christmas carols to put everyone in a holiday mood. The group serenaded the crowd with songs such as "Merry Christmas," "Baby Born a King," "Kumukutikutitap," and "One Flame."

Gerphil started her set with the traditional Filipino song "Minamahal Kita." She thanked everyone who came to the concert and asked them to sit back and relax as she brought back memories.

Up next was "Love Story," a song that was popularized by Andy Williams during the 1970s. The classical singer then gave her rendition of the Christmas song "O Holy Night."

When Gerphil introduced Jose Mari Chan, she said with a smile, "It's such a privilege to sing with him tonight."

Jose Mari then told Gerphil, "I am truly in love with your voice."

Together, they performed a duet of "Please Be Careful with my Heart."

For Jose Mari Chan's set list, he sang "Deep in My Heart," which he connected to the traffic situation in Manila.

"I can't believe...Do you know how old that song is? It's 46 years old. I never thought one day the traffic in the Philippines, especially Manila, would this be grabe," he said.

When he sang "Can We Stop and Talk Awhile," Jose Mari showed his funny side by cracking a joke.

Ano ang tagalog word ng asawa?
May bahay.
Anong tagalog word for mistress?
May mansyon.
Name the reindeers of Santa Claus.
There's Rudolf, Comet, Blitzen, Olive.
Wait wala namang Olive, ah.
Sir, mayroon Olive the other reindeer.

For his last song, Jose Mari asked everyone to join him in singing his signature song "Beautiful Girl.

Music icon Jack Jones brought nostalgia when he serenaded audiences with songs from the 1970s and 1980s.

His set list included "My Favorite Things," "Sound of Music," "Climb Every Mountain," and "If I Ruled the World."

The romantic mood continued with Jack's songs such as "People Will Say We're in Love," "What Are You Doing the Rest of Your Life, and "She."

Filipino concertgoers also had a chance to hear Jack sing "Love Boat," the theme song of the American TV show of the same name.

Jack also made it a point to sing his most popular songs "Impossible Dream" and "The Lorelei" during his Philippine concert.

He then introduced Jose Mari Chan so they could the perform the song "Wives and Lovers."

Jose Mari told Jack, "The first time I heard that, your 1963 version, I was a high school student."

The Jack Jones Sings Songs From the Heart concert was held for the benefit of Kaagapay ng Tagaligtas, Inc., a non-stock, non-profit organization dedicated to family members of the 44 Special Action Force personnel who perished in Maguindanao.

To officially end the concert, Jack Jones, Jose Mari Chan, and Gerphil Flores treated everyone to their rendition of "The Christmas Song" along with the Kilyawan Choir.


ADVERTISEMENT - CONTINUE READING BELOW