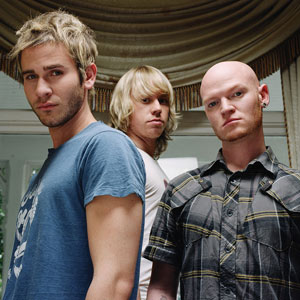 ---

The band that brought hits that turned ballads intosecondary anthems for love-filled situations serenades us this Saturday, July26, at the Araneta Coliseum. MTV Philippines and co-presentor MCA Music proudly bring Jason Wade, RickWoolstenhulme Jr. and Bryce Soderbergthe—the talented threesome of Lifehouse—for a one-night concert at the Big Dome.
Reminisce with songs that not only captured top spots incharts all across the globe but the hearts of many as well. Sway along with"Hanging By A Moment," "You and Me," "Sick Cycle Carousel," "Whatever ItTakes," "Spin," "Breathing," and "First Time," among others.


From their debut album No Name Face that containedthe single "Hanging By a Moment" to their latest album Who We Are thatcontains the new single "Make Me Over," this band from Malibu, California, hasreached heights farther than any of them ever imagined.
Lifehouse has been a resident band in popular TV shows thatrequire mood enhancing musical scores. This includes the Superman TV series Smallvillethat effectively utilized the song "Everything." Another smash hit that is a TVshow favorite is the song "Broken," which is part of their latest album titled WhoWe Are. This song has been used in episodes of Grey's Anatomy, One TreeHill, Criminal Minds and The Hills.
ADVERTISEMENT - CONTINUE READING BELOW
Much of the appeal of the work of Lifehouse comes not onlyfrom the music but the genius collaboration of heartfelt words laid down by thegroup's lead vocals, Jason Wade. In a previous interview, this songwriterdescribed his take on composing songs:
"A while back, I had a falling-out withsomeone I was really close to. I wentthrough a hard time dealing with that, picking up the pieces. I'm not the kindof person who wants to sit down and have a long conversation about my feelings.That stuff tends to get worked out in the songs."
Jason gets his influence and inspiration from one of thebiggest names in the music industry. He states in another previous interview,"I grew up not really listening to much music but my mom turned me on to theBeatles, and they changed my life. Ibecame obsessed with them. How can younot be? They're the best of thebest."
Delving deeper into the poppantheon, he discovered the works of Todd Rundgren, Badfinger, the Raspberriesand other masters of the form.
ADVERTISEMENT - CONTINUE READING BELOW
Lifehouse has indeed been on a wild journey filled withmostly success and little bumps on the road with the change in band members andthe unavoidable comparisons having to exceed expectations of many. Howdoes a breakthrough act like Lifehouse view this journey? They not only compareit to the success of the music they offer but their over-all view on life. AsJason would say, "It's hard to move onfrom a certain place in your life, but it's the struggle to do it that gets youto where you need to go."


Indeed, the greatest feat along this frequently rocky path is to stand, climb,fall and get back up again.
There is no better way to get a full glimpse of what Lifehousehas to offer than to get the collection of songsthat speaks of utmost emotion and understanding.
ALBUM SIGNING. Get to see the Lifehouse members onJuly 25 (Friday, 5 pm) at the Main Mall Atrium of SM Mall of Asia. Get yourcopies at the venue of the Who We Are Limited Philippine Tour EditionAlbum. Fans will only get one but two CDs filled with Lifehouse hits. Thesefeature live versions of Lifehouse hits such as "You and Me" and "Hanging By AMoment" plus new songs like "I Want You To Know," "Signs Of Life," and manyothers that will only be released in this unique collection of Lifehouse hitsand fresh materials. Only limited copies will be sold in the venue so make sureto get there early.
ADVERTISEMENT - CONTINUE READING BELOW
Fans of Lifehouse also have the option of acquiring limitedMeet and Greet passes available at participating NoCurfew Watch Stores. Call556-0428 or 0917-856-7208 for details and inquiries.
Call Ticketnet at 911-5555 or Concertus at 813-2612 forconcert ticket details.