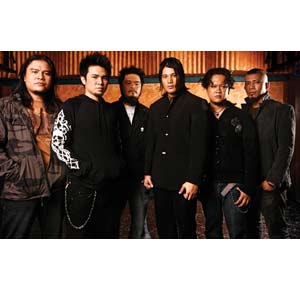 ---

Creating something different is hard but reinventing whathas already been established is harder. The band members of Cueshé strive to beat themselves at their own accomplishments and exceed their fans' expectations. They work hard, constantly pushing themselves to improve their craft and comeup with a piece that would define them as serious artists. In short, they're driven.

Cueshé is all geared up with the release of their newestalbum titled Driven, which will be formally launched this August 1, 5pm, at the Activity Area of Robinsons Metro East. The event will also be markedas the band's Grand Fans Day and Cueshéans can expect loads of fun, games,and surprises.
Jay Justiniani (vocals), Ruben Caballero (vocals/ guitars),Fritz Labrado (bass), Jovan Mabini (lead guitars), Jhunjie Dosdos (keyboards)and Mike Manaloto (drums) rev up enough firepower intheir newest album to impress their fans who have waited for this long overduealbum.
"It is a totally new release and the people will definitelylove what we've done with it, a more mature attitude was seriously incorporatedin it but we made sure that the fans will not be alienated," Manaloto said."This time, we will make a better statement, we've grown a lot since then andour music can vouch for it."
The new songs in Driven are"There Was You," "Superstar," "Till',""One," "Quicksand," "Babe," "Over You" and the carrier single "BMD." The bandalso included the Tagalog tracks "Minsan," "Alaala," and "Please Naman."


Cueshé will be seen in mall shows to be held on August 3 atRobinsons Place Imus, August 8 at Robinsons Starmills Pampanga, August 9 atRobinsons Place Manila, August 10 at Robinsons Place Lipa, August 17 atRobinsons Place Dasmarinas, August 22 at Robinsons Galleria, August 23 atRobinsons Nova Market and August 24 at Robinsons Place Angeles.
All shows startat 4 pm. A meet and greet and autograph signing session for album buyersfollows.
Driven is now out in CDs at your favorite recordstores for only P285 under Sony BMG Music Entertainment.
ADVERTISEMENT - CONTINUE READING BELOW
Date: August 1 (Friday), 5 pm
Venue: Robinsons Metro East Dela Paz Marcos Highway PasigCity
PEP PROMO. In cooperation with Sony BMG, PEP offers a chance for two PEPsters to have an exclusive meet-and-greet sessionwith Cueshé. The lucky winners will be given backstage passes so they can talk with the six band members and be able to take home a signed CD and poster.


PEPsters are invited to take part in this event scheduled on August 1 atRobinsons Metro East. For join this PEP promo, visit this link: