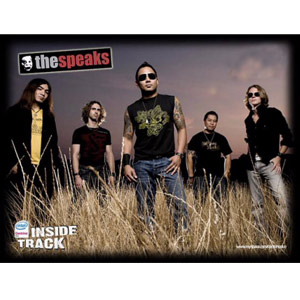 ---
When the Fil-American band The Speaks performed in the Philippines in October 2005, not many people knew about the racial discrimination that they went through before they made it big in the music industry.
According to an article published in the Manila Bulletin in November 2005, the band--composed of vocalist Rafael Toledo, guitarist Archie de la Cruz and Siegfred Fuster, bassist Jerrry Delino and drummer Johnny Abende--would have been signed up with a major label if not for the color of their skin.
Still, Rafael, Jerry, and Archie remain proud of their Asian roots. They are full-blooded Filipinos since their parents were all born and raised in the Philippines. The musicians themselves have a strong affinity for their countrymen since their parents made sure that they would recognize their Filipino heritage.
Johnny, who sports blond hair, is also a Filipino-American musician while Siegfred, the band's lead guitarist, is Filipino-Malaysian who even studied in San Beda and the University of Santo Tomas before moving to the United States. The five-man band is currently based in Metro Washington, DC area.
Rock quintet The Speaks is best known for the hit song "High," which successfully crossed over to the Philippine top 40 radio and concert circuit. In 2005, The Speaks signed a distribution, production and publishing deal with Warner Music (Asia) with the album release in the Philippines. The release date of the localized CD titled Life's A Joke was in April 2005, and the band's first hit single "Life's A Joke" was on the top 30 countdown for over 5 months. The second single release and music video for "High" was at the No.1 spot for at least 7 weeks.
Soon, Filipinos will once again be able to see The Speaks in person when they return to the country to promote their newest album titled This is the Time. The new album from MCA Music features six brand new tracks including "Carpe Diem," "Regret," and "Nowhere Fast."
ADVERTISEMENT - CONTINUE READING BELOW
From pure adrenaline-driven rock, to soulful and piercing rock ballads, The Speaks will take you through a roller-coaster range of emotions with their catchy, hook-filled, Generation-Z anthems. With strong vocals, catchy melodies, powerful chord progressions, addictive guitar solos and pure emotion driven music--The Speaks take the rock genre to another level.