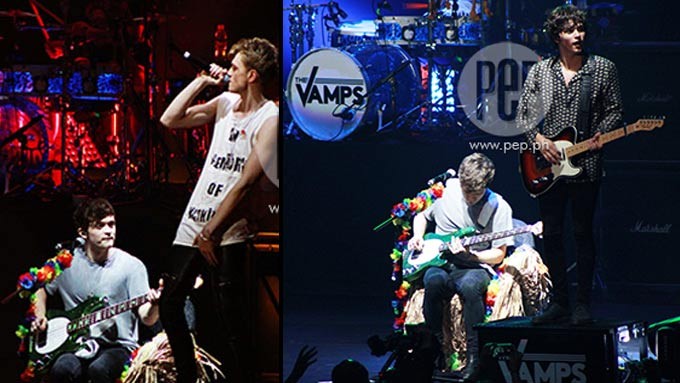 ---

"It's so good to be back here, how are you all feeling tonight?" The Vamps lead vocalist and guitarist Brad Simpson asked Filipinos at the start of the #3LOGYInManila concert.
The British pop band The Vamps returned to Manila for the second time as part of the Wake Up World Tour.

The Vamps performed at the Mall of Asia Arena last night, January 30, with two other bands: Before You Exit and The Tide.
"It's been a year since we're here last year," Brad recalled.
Tristan Evans, The Vamps drummer, interrupted, "I can't wait to be introduced to these beautiful faces right here."
James greeted their excited Pinoy fans, "Sexy ladies, hello!
"How are you feeling Manila?
"I have a question to all the beautiful sexy ladies in the audience.
"Number one are you ready to have a good time?"
Their fans screamed wildly in response.
"My second question is: who likes Demi Lovato?"
Concertgoers screamed even louder as the band hinted that they would perform "Somebody To You" featuring Demi Lovato.
Brad Simpson, Tristan Evans, James McVey, and Connor Ball definitely did not disappoint their fans that patiently waited for their act.

Their two-hour show in the Philippines was filled with so much singing, dancing and jumping.
"Ever since the start of The Vamps in October 2011 we've always wanted to perform in the Philippines.
"It is actually one of the fun places to perform in the world. Now that we're here I think we should come back every year," said Brad, filling fans with hope about seeing their idols return in the future. 
The British boys performed cuts from their 2014 Meet The Vamps album including hit songs, "Wild Heart," "Somebody To You," "Risk it All," "Oh Cecilia," and "Can We Dance."
The crowd responded enthusiastically to their performance of hits from The Vamps' Wake Up 2015 album.
ADVERTISEMENT - CONTINUE READING BELOW
Concertgoers sang along when they performed "Wake Up," "Rest Your Love," "I Found A Girl," and "Million Words."
Another highlight of the #3LOGYInManila concert was when they did a remake Bruno Mars' "Uptown Funk," Miley Cyrus' "We Can't Stop," and Taylor Swift's "Shake it Off."
Spotted at the concert were Liza Soberano, Enrique Gil and Michelle Vito who had their backstage moment with The Vamps.
Liza Soberano was invited by James McVey to watch their Mall of Asia Arena show last night.

In an interview, James revealed that he and Liza had the chance to talk prior to their arrival in Manila.
He said, "We spoke a couple of weeks ago and I'm gonna text her tonight so hopefully we'll see each other in the concert."
He added, "Liza, if you're watching, I'll sing to you...at the show."
James McVey met Liza Soberano when The Vamps had a guest appearance on ASAP last February 2015.
James McVey even posted a selfie with the actress on his official Instagram account with the caption, "You were so lovely."


(To view photos of #3LOGYInManila, CLICK HERE)