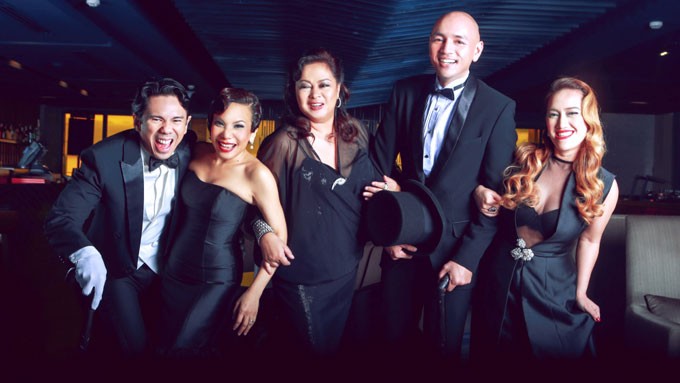 ---

Make new memories and enjoy a night of your favorite tunes with the country's premiere vocal ensemble, The CompanY, as they put together a Valentine's show at the Palacio de Maynila.
With 30 years in the business, The CompanY has been a veteran of concert circuits here and abroad. The group is known for amazing vocal harmonies and for covering various music genres ranging from pop and R&B to jazz and contemporary a capella, and everything in between.
This Valentine's Day, expect a highly entertaining show from The CompanY's founding members Moy Ortiz and Annie Quintos, as well as roster veterans Sweet Plantado, Cecile Bautista, and OJ Mariano.
The group has wowed the most discerning audiences around the globe, and for this special one-night concert, local fans will be reminded why they remain a most sought-after act to this day.
The CompanY has just released its 25th album Nostalgia.
ADVERTISEMENT - CONTINUE READING BELOW
With songs like the touching "Both Sides Now," the happy "Up, Up and Away," the upbeat "If All We're Gonna Do Is Dance," the stirring "The Times of Your Life," and many others, the album is a success and offers proof that The CompanY still knows how to tug at the heartstrings of their listeners.
The CompanY may be a successful recording act but that's just one facet of their genius. They are best seen live so listeners can experience their music in ways that will definitely move them.
This much-awaited show, Music & Memories, will give their local fans a dash of romance and bit of a throwback as they perform songs that have remained favorites among listeners throughout the years.
What's more, they have invited a special guest to give the audience a sweet treat. Joining them on the day of hearts is heartthrob Richard Yap. A favorite among many television fans, Ser Chief—as he is known and remembered from his hit daytime soap—will send hearts a-flutter as he shows his musical side and serenades audiences with songs of love and romance.
ADVERTISEMENT - CONTINUE READING BELOW
Ser Chief, lauded for his mellow and cool voice, will provide a nice contrast to the rousing numbers and the harmonized hits The CompanY is known for.
With Valentine's Day falling on a Sunday this year, give yourself and your loved ones a treat of a truly romantic weekend with music that will feed your passionate soul, and memories that will live on in your hearts for a very long time.
Music & Memories headlined by The CompanY, with special guest Richard "Ser Chief" Yap, is set on February 14, 7 p.m., at the Palacio de Maynila along Roxas Boulevard in Malate, Manila.
Interested parties may call Palacio de Maynila at Tel. No. 524-7606. Tickets are also available through SM Tickets (Tel. No. 470-2222).