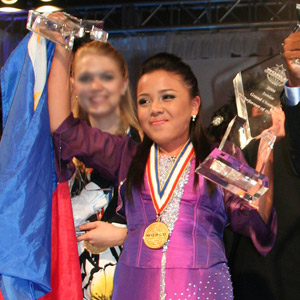 ---
LOS ANGELES, CALIFORNIA—Vocalists from the Philippines and Jamaica were awarded top honors in the 2008 World Championships of Performing Arts (WCOPA) or the Hollywood Olympics' grand finals night held at the Westin Bonaventure Hotel on Friday, July 25. Junior contestant Catherine Loria from the Philippines and senior contestant Andrew Clarke from Jamaica were proclaimed Grand Champion Performers of the World.
13-year old Catherine, who hails from Tiaong, Quezon province, has duplicated fellow Filipina singer Aria Clemente's feat last year. Catherine sang Yolanda Adam's version of "I Believe I Can Fly" at the finals. She bested fellow junior contestants Tippy dos Santos and Rachel Razon, junior vocalists also from the Philippines, Courtney Mary Janssen from New Zealand, and Oleksandr Chernenko from Ukraine.
The female Grand Champion Performer had five vocal entries in the preliminary round; namely Broadway, Country & Western, Gospel, Pop, and R&B/Soul/Jazz. Catherine sang the solo version of Mariah Carey and Whitney Houston's "When You Believe" in the semi-final round.
ADVERTISEMENT - CONTINUE READING BELOW

Actor and classical singer Clarke has beaten senior vocalists Marielle Corpuz from the Philippines, Noryn Aziz from Malaysia, and Nataly Gordienco from Moldova. Clarke also received US $10,000 in scholarship awarded by the School for Film and Television in New York.
Patterned after the Olympics, outstanding amateur and professional performing artists from the United States and over 40 countries have competed in this esteemed international event.
From the selection process administered by licensed scouts, and National Directors (Philippine directors are Carlo Orosa and Oliver Oliveros), contestants were screened, qualified, and invited to represent their respective countries at WCOPA, which is now on its 12th year.
Included in the competition categories were dance, vocal, modeling, acting, instrumental, and variety acts.
2008 Team Philippines' vocalists Panky Trinidad, Dex De Rosa, Abegail Dorado, Glee Nette Gaddi, and the Sison brothers (Marek, Enzo, Ruiz) made it to the semi-final round. They have received semi-final round medals.
The rest of the Philippines' competing vocalists in both junior and senior divisions failed to get ahead of round one. Contestants in the preliminary round have received gold, silver, bronze medals, etc. as special awards based on the scores given by the judges.
ADVERTISEMENT - CONTINUE READING BELOW
This year's judges included hotshots from the National Association of Record Industry Professionals, J Records and RCA Music Group, LA Models, casting department of TNT's The Closer and CBS' The Class, cast of hit film Indiana Jones and the Kingdom of Skull, Geffen Records, creative team behind "The People's Choice Awards" and "The Golden Globe Awards," and Disney Entertainment Productions. Other people who came were the management group of Eva Longoria, Mario Lopez, and Lee Ann Rhimes, as well as the casting agency for Broadway's Jersey Boys, Wicked, Legally Blonde, Phantom of the Opera, and A Chorus Line.
Catherine's big win has made her the third Grand Champion Performer of the World from the Philippines after Jed Madela in 2005 and Aria Clemente in 2007. Both Jed and Aria performed in the opening and closing ceremonies of 2008 WCOPA.