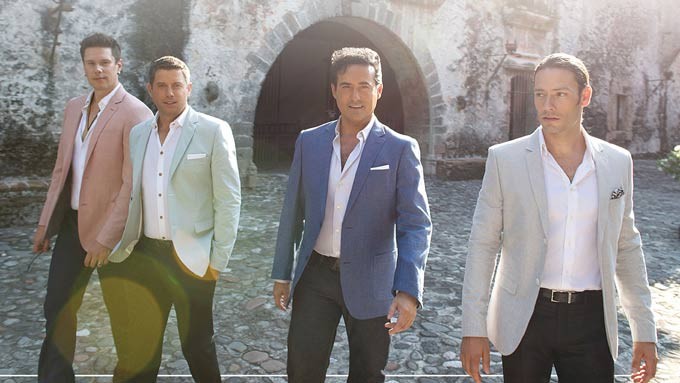 ---

In the modern opera world, there is no other group that has been able to cross over to a general audience with the same verve and powerful sensuality as Latin fuego sensations Il Divo.

First brought together by Simon Cowell in 2003, the quartet of Urs Buhler, Sebastien Izambard, Carlos Marin, and David Miller, have transformed the landscape of classical crossover with over 30 million album sales worldwide and are still going strong twelve years and four chart topping albums later.

On April 6, Filipinos will get to see Il Divo as they tour their seventh studio album Amor & Pasion, which is full of love and romance. 

The operatic pop quartet will be brought to the Philippines for the first time 28 BLACK and PULP LIVE WORLD for a one-night-only concert at the Mall of Asia Arena.

Get ready to be seduced by the sultry rhythms of Spain, Cuba, Argentina and Mexico as Urs, Sebastien, Carlos and David make Pinoys swoon with the Latin sensuality of their music which is underpinned by the use of Spanish in every song.

It is, David says, the perfect language for Il Divo: "When we started 11 years ago, our directive was to take this handful of songs and inject them with Latin charisma, passion, romanticism. So we took these well-known songs like 'Unbreak My Heart' and 'My Way' and we translated them into Spanish or Italian."

"The Spanish language lends itself to our music—the four of us have different musical backgrounds, different national sensibilities. Spanish was the language that could flow easily from all four of us. It allowed the changing of the gears. So here we are doing an album of the music that kind of inspired the whole process to begin with. There's something very special about it."

Working with Columbian producer and multiple Latin Grammy winner Julio Reyes Copello, Il Divo have recorded 12 songs spanning a century of traditional tangos, smouldering boleros and classic mambas.

Working alongside the Latin Division of Sony, the music hails from Spain and Cuba, from Central and South America.

On the playlist are familiar hits such as Julio Iglesias' iconic "A Las Mujeres Que Yo Ame (To All the Girls I've Loved Before)," Gloria Estefan's resonant "Si Voy A Perderte (Don't Wanna Lose You)," along with "Himno De La Alegria," an exciting Latin treatment of Beethoven's "Ode To Joy," which Carlos says feels like their very own "Nessun Dorma."

Il Divo have literally performed in front of kings and queens such as
President Barack Obama and Her Majesty The Queen as well as shared microphones with fellow superstars Barbra Streisand and Celine Dion.

Let Spanish baritone Carlos Marín, Swiss tenor Urs Bühler, American tenor David Miller, and French pop singer Sébastien Izambard tantalize you on April 6 at the Mall of Asia Arena in one glorious night and passionate music.

Tickets go on sale worldwide via SM Tickets on Friday, February 12, 2016 at all SM Ticket outlets nationwide and online at www.smtickets.com.

For more information, please log on to
www.pulpliveworld.com. For VIP assistance, please email
royalty@pulpliveworld.com.


ADVERTISEMENT - CONTINUE READING BELOW