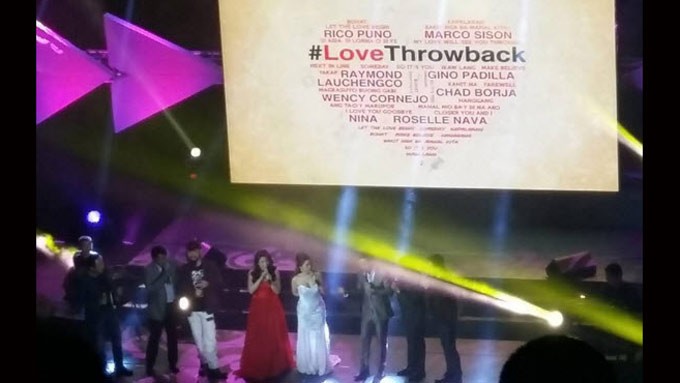 ---



Less than a year after his triple heart bypass surgery, Rico J. Puno is back where he belongs: on stage. 

The man who celebrated his 63rd birthday on the day of the #LoveThrowback  concert at the PICC Plenary Hall gave his comeback show all he's got.

He treated his triple heart bypass last year as if it was something as natural to him as cracking those green jokes he's famous for.

"I remember nung pinapasok ako [sa machine], parang mamamatay na ko.  I saw that in the movies. Yung kaluluwa ko nakatingin sa akin … binuksan yung tiyan ko. Kinuha yung puso."
 
Rico J. lifted his shirt to show off a scar trail running down his tummy, the result of last year's surgery. He was like a soldier showing off his badge of honor, a scar he earned after fighting a long, grueling battle with his health.

The guy knows he's damn lucky.  And he's grateful.

"Thank you all for the prayers," he boomed.

But prayers and luck have not changed that naughty side of him.

Rico J. joked about open zippers, intimate things couples do in Fort Santiago, the back row of old stand-alone theaters,  pick-up lines, etc.  The audience lapped it up.

Rico J encroached on Marcos territory--and won.

He asked the musicians on stage if they can change the repertoire so he can sing former First Lady and Leyte Rep. Imelda Marcos's favorite song, "Dahil sa 'Yo."

When he got no response, the unfazed Rico J looked around and said, "The reason why I asked is, I remebember itong edifice na ito was built with the inspiration of the Philippines'  beautiful First Lady, Mrs.  Imelda Marcos, di ba? Palakpakan naman natin! Sabi ko nga sa mga kasama ko, I can call Mrs. Marcos patroness of the arts. At the same time, sabi ko she's a very genius First Lady.
 
"Sabi nila, 'Bakit naman genius ang tawag mo kay First Lady?' Aba'y kako,  lahat na nakulong. Siya, hindi pa nakukulong!"
 
Rico shifted to present-day elections and reminded the audience about what he says is presidentiable Jejomar Binay's campaign song.

"This is the favorite song and the campaign song of probably the Philippines' first black President, Jojo Binay," Rico J. deadpanned.

The song it turns out, is "May Bukas Pa," which the irreverent singer performed along with two more hits, "Kapalaran" and the bouncy 'Macho Gwapito."

Rico J. tried his best to reach the high notes of "Kapalaran," but wisely decided to ask the audience's help in  singing the more difficult parts instead.  A guy willingly left his seat and the lady beside him and took the mic to sing the last parts of the song. The audience did its share as well.

You can't blame the man for thinking of his health first.  Neither can you fault him for asking "Respect, please" in the form of applause, because that's what he's used to getting during his heyday.

Respect was also what this OPM pioneer got when the show (directed by Calvin Nerea) had him as finale performer, after Gino Padilla, Chad Borja, Wency Cornejo, Raymond Lauchengco, Roselle Nava, Nina and Marco Sison.

Before he gave Rico J the respect due him, however, Marco decided to poke fun at the OPM icon first.

The singer behind "Always," "So Aida at si Lorna at si Fe," and "My Love Will See You Through" urged the audience, "Kung may gustong mag-CR sa inyo, this is the best time. Kung gusto niyong may smoke break, pwede rin."

Marco was just trying to be funny, of course, to much success.

He changed from humorous to serious when he described Rico J as "the man who started it all for OPM."

"Ama ang tawag namin sa kanya," Marco continued.

But he can't help but poke fun at his friend again,  "Yung pagiging green niya, siya lang 'yon."

Marco added, "Napansin niyo ba  ang sequencing  ng mga singers, according to age?"

Age is also something Wency Cornejo was concerned about when he mounted the stage to sing "Next in Line," "Hanggang" and his hit composition, "Habang May Buhay."



MINI ELECTION SURVEY. After the applause for "Next in Line" died down, the singer-songwriter looked down at his dark jacket and remarked, "Mahirap 'tong jacket na 'to. Lumalabas ang mga taba taba."

Wency blamed the age factor, and moved on.  Why quibble with age when you have the audience in the palm of your hands? And when you can conduct your own private election survey along the way?

Newscaster Mel Tiangco's son mentioned the name of each of the five presidential candidates and asked for a show of hands.

He observed that "medyo hindi totoo ang survey" that Grace Poe is leading the pack.  But Miriam Defensor-Santiago's tail-end showing seemed to be correct. Support for Mar Roxas ("Yung sinusuportahan ng ABS-CBN") looked more encouraging ("Humahabol daw 'yan sa survey, di ba?).

Wency also mentioned  "the self-confessed Nognog" (Vice President Jejomar Binay) and didn't get too many show of hands.

Wency, for his part, has made  up his mind. He's rooting for Davao's controversial Rodrigo 'Digong' Duterte.

"Ako po ay hindi na nakatira dito sa Manila," Wency explains. "Ako po ay nakatira na sa Davao."

He kept talking despite the lusty cheers.

 "I've been residing in Davao for the last five years… Not that I'm  campaigning.  But I will tell you firsthand na-experience ko kung ano ang pamamalakad. And I can really say  mahusay."

The crowd roared their approval.

Before the concert turned out to be a pre-election rally, however, Wency reverted to its original goal.

He returned to talking about Valentine's Day and unconditional love until he spotted a woman crying all by herself at the back row.

She told Wency she lost a loved one, and got an expression of sympathy from the singer-songwriter kneeling in front of her.

Wency's fellow performers did their share in bringing back the good old days when Valentine's meant love letters, not social media and text messages.   


THE REST OF THE NIGHT. Raymond sang his hits, "So It's You," "I Need You Back" and "Farewell" and heard cries of "more, more!" It was Raymond's just reward for graciously telling a tactless guy demanding for Rico J to appear, "Bibilisan ko na lang," or words to that effect.

Chad sustained a note in "Kahit Na" and got appreciative applause.

Nina's "Love Moves in Mysterious Ways" also got shouts of approval.

The OPM time machine's last stop was the upbeat, hopeful song "Tuloy Pa Rin," which all the performers sang after serenading Rico J with the famous "Happy Birthday Song."

#LoveThrowback's retro repertoire may be far different from that of today's concerts. The songs--many of them from the '90s--may not ring a bell among millennials.

But one thing's sure: it made audiences laugh, sing along, feel romantic and nostalgic.

Love--and the music that goes with it--never runs out of style. That's what makes Valentine's concerts a staple even among the unattached--until now.





ADVERTISEMENT - CONTINUE READING BELOW