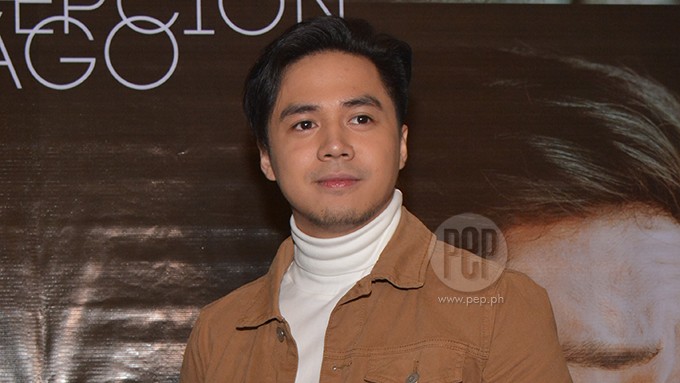 ---

Singer-actor Sam Concepcion makes a comeback to the OPM scene via his all-original full-length studio album titled Bago under Universal Records (MCA Music). This comes three years after his multi-Platinum record titled No Limitations released in 2013.
In an interview with PEP.ph (Philippine Entertainment Portal) and other members of the press, the Kapamilya performer said that it took him some time to work on his third album since he wanted to collaborate with other songwriters. For this album, Sam worked with music producer Jungee Marcelo and MCA Music's Ito Rapadas, among many others.
Sam believes that releasing an all-original album for an OPM artist is a big risk these days but still continued to do so as their contribution for the local music industry.
He explained, "For this album, it's all original which is actually a risk. It's very scary for me to do and that's why I'm very thankful to Universal that they're all onboard for this.
"Kasi, I think it already comes bigger than sales or it becomes bigger than sold out concerts. I think we're really doing something here as a responsibility."
Sam's new album was officially launched on Wednesday, March 9, at Luxent Hotel in Quezon City.



NEW MUSIC. Sam makes it sure that he can relate to all the songs he put in his album for him to be able to express the feelings behind them. The "Dati" singer said, "I think it wouldn't make any sense if I created an album that's just put on and had nothing to do with me.
"I think the reason why I sing the way I sing and I perform the way I perform, is because it's coming from a place that's very real. I think the album will reflect that as well, you know, if it makes you feel a certain way.
ADVERTISEMENT - CONTINUE READING BELOW
"Like it makes you feel a certain kind of happy, or a certain kind of sad, or a certain kind of inspired, or a certain kind of angry or whatever it is. It's very authentic to me, I would say say yes. Yeah, a whole lot of it is me."
Does he consider the suggestion of his fans while making an album?
Sam said, "I guess, I really want to make them involved in such a way na I listen to, you know, what we young people would like to hear.
"Kung ano yung… you have to keep your ears to the pulse when it comes to the music, kung ano yung bago. Kung ano yung mga gusto ng mga tao ngayon.
"And then, my fans are music fans so they know what they want to hear and they know what they like.
"Kaya even you listen to the album, minsan yung iba medyo R&B, some are pop, some are EDM [electronic dance music].
"Katulad nung 'Bago,' medyo may pagka-old yung vibe, medyo stylistics.
"You know, I think this is something they would understand.
"But for those who would hear it for the first time, I think ano andun pa rin kasi yung pinaka-essence of myself.
"So no matter how it sounds, it will still sound very me, and very young, and very relatable to everybody."



WHAT'S NEW? For first single, Sam once again released an EDM track titled "Kalsada." This time, however, Sam went for Tagalog lyrics instead. The singer explained, "Everyone knows about the sound it's just that parang meron lang naging image na 'pag Tagalog yung kinakanta mo baduy and I think it happened ages ago. But it's very different naman na now. There are a lot of artists out there, Tagalog man or English.
ADVERTISEMENT - CONTINUE READING BELOW
"Because the first single from my last album is also an electronic track and I guess, if people accept foreign music the way they like it, like EDM, they would appreciate this more. I would say na they would appreciate the same sound. 
"You know, I guess, it's just that you really have to own it and make sure it's very organic and very real."
Does he plan on releasing an acoustic version of the song?
Sam answered, "I haven't really thought of that yet but maybe. I'm open naman to anything. You now, releasing an acoustic album is very different from what I'm releasing now. But, that's something good to hear as well, so I'll keep that in mind."