Grammy Award-winning singer and songwriter Richard Marx performed a mixture of his own hits and those he wrote for others during his March 12 concert at the KIA Theatre, Araneta Centre in Cubao, Quezon City.
For about 75 minutes, the Chicago native played a remarkable show. He unleashed most of his biggest hits, reminding Filipino concertgoers of his songwriting prowess.
Marx began his set with a soothing version of "Endless Summer Nights." The legendary crooner was in fine form all night playing acoustic guitar and piano along the way.
He moved right into his next song "Take This Heart." Marx's humor straightaway warmed and captured the crowd, which was impeccable because he requested for crowd participation for his next song, "Satisfied."
It was divine to hear the crowd sing backup. And there was no denying that Marx was having fun too, "I'm proud of you guys," he beamed at the end of the song.
At that point, he had the audience's full attention. "So, I'm gonna play a bunch of special songs I've done over the years," he remarked.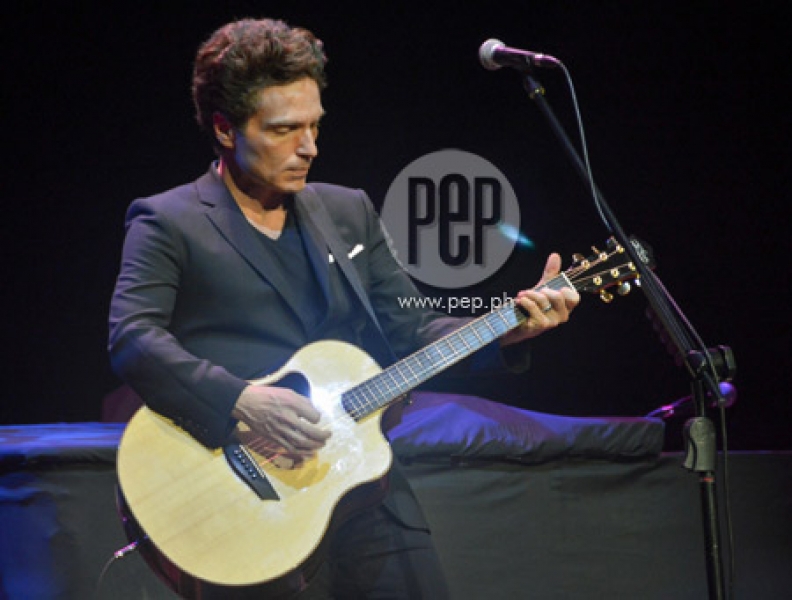 BEAUTIFUL GOODBYE. Richard went on to play all of his awesome hits along with some phenomenal songs he has written for others--something he deliberately did on purpose.
One of the highlights of the show was when he played a couple of songs that he wrote for other artists. He sang a song he penned for NSYNC titled "This I Promise You." He also played "To Where You Are," a song that he wrote for Josh Groban and "Dance With My Father," a song that he co-wrote with the late Luther Vandross.
But Marx wasn't done.
Other memorable highlights of Marx's show were coupling of a slow "Hold On To The Nights" and the heartfelt and intense "Now and Forever."
The engaging musician then closed the main set with his biggest hit song "Right Here Waiting" as the crowd clapped and sang along.
His two-song encore opened with an upbeat song, followed by a stripped-down cover version of Elvis Presley's "Can't Help Falling in Love," which earned for him a standing ovation.
Here is the full setlist of Richard Marx The Solo Tour in the Philippines:
"Endless Summer Nights"?
"Take This Heart
"Satisfied"
"Keep Coming Back"
"Hazard"
"Chains Around My Heart"
"Until I Find You Again"
"To Where You Are"
"Dance With My Father"
"This I Promise You"
"Save Me"
"Angelia"
"Should've Known Better"
"Hold On To The Nights"
"Now and Forever"
"Don't Mean Nothing"