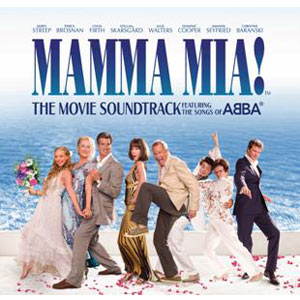 ---

Meryl Streep leads an all-star cast in the film adaptationof the West End stage musical that has been seen by more than 30 million peoplein 170 cities and eight languages around the world. Bringing the timelesslyrics and melodies of iconic super group ABBA to movie audiences, this is theseason for Mamma Mia, which boasts of a star-studded soundtrack releasedin the Philippines by MCA Music.
The feature film adaptation of the global stage hitproduction brings the magic of ABBA's music to the silver screen. With risingstar Amanda Seyfried and Dominic Cooper, alongside Hollywood heavy-hittersMeryl Streep, Pierce Brosnan, Colin Firth, Stellan Skasgard, Julie Walters andChristine Baranski, the film features the stars' versions of 17 ABBA classicsin this celebration of a mother, a daughter and three possible dads.
Mixed, mastered and produced by ABBA's musical geniusesBenny Andersson and Bjorn Ulvaeus, the soundtrack is a must-have collection ofthese pop gems. Andersson and Ulvaeusreunited in Stockholm with the musicians who played on the original ABBA songs torecord the disc in February 2007. It was the first time the musicians hadplayed the songs together since ABBA toured more than 25 years ago. Along with producing the recording,Andersson also played keyboards. He commented, "We didn't have to think aboutit-it was in the fingers."
The actors joined together for the first time to recordtheir vocals in London in April 2007, prior to the commencement of principalphotography. They continued recording later that summer on location whilefilming on the beautiful Greek islands. Listeners will be enchanted by Streep,Walters and Baranski making their mark on "Dancing Queen," Brosnanand Streep's upbeat rendition of "SOS," and the energetic song "Voulez-Vous."The 17-track album Mamma Mia! captures the essence of the originals,while still giving them new and dazzling treatments.
Inspired by the storytelling arcs of ABBA's songs from"Dancing Queen" to "Money, Money, Money" and "Take aChance on Me," Mamma Mia! is a celebration of mothers anddaughters, old friends and new family found.
ADVERTISEMENT - CONTINUE READING BELOW
SYNOPSIS. The three women who created the worldwidestage hit— global producer Judy Craymer, writer Catherine Johnson, anddirector Phyllida Lloyd—collaborated in bringing this joyful, musicalstory to the big screen. The Mamma Mia! film is produced by Judy Craymerand Gary Goetzman.
An independent, single mother who owns a small hotel on anidyllic Greek island, Donna (Streep) is about to let go of Sophie (AmandaSeyfried), the spirited daughter she's raised alone. For Sophie's wedding,Donna has invited her two lifelong best girlfriends practical and no-nonsenseRosie (Julie Walters) and wealthy, multi-divorcee Tanya (Christine Baranski)from her one-time backing band, Donna & the Dynamos. But Sophie hassecretly invited three guests of her own.
On a quest to find the identity of her father to walk herdown the aisle, she brings back three men from Donna's past to theMediterranean paradise they visited 20 years earlier. Over 24 chaotic, magicalhours, new love will bloom and old romances will be rekindled on this lushisland full of possibilities.
Mamma Mia! The Movie is currently showing in thePhilippines courtesy of United International Pictures, Universal Pictures, andSolar Entertainment Corporation.
TRACK LISTING.
1. Honey, Honey (Amanda Seyfried, Ashley Lilley & RachelMcDowall)
2. Money, Money, Money (Meryl Streep, Julie Walters &Christine Baranski)
3. Mamma Mia (Meryl Streep)
4. Dancing Queen (Meryl Streep, Julie Walters &Christine Baranski)
5. Our Last Summer (Colin Firth, Pierce Brosnan, StellanSkarsgard, Amanda Seyfried & MerylStreep)
6. Lay All Your Love on Me (Dominic Cooper & AmandaSeyfried)
7. Super Trouper (Meryl Streep, Julie Walters &Christine Baranski)
8. Gimme! Gimme! Gimme! (A Man After Midnight) (AmandaSeyfried, Ashley Lilley & Rachel McDowall)
9. The Name of the Game (Amanda Seyfried)
10. Voulez-Vous (Full cast, Philip Michael, ChristineBaranski, Julie Walters & Stellan Skarsgard)
11. SOS (Pierce Brosnan & Meryl Streep)
12. Does Your Mother Know (Christine Baranski & PhilipMichael)
13. Slipping Through My Fingers (Meryl Streep & AmandaSeyfried)
14. The Winner Takes It All (Meryl Streep)
15. When All is Said and Done (Pierce Brosnan & MerylStreep)
16. Take a Chance on Me (Julie Walters, Stellan Skarsgard,Colin Firth, Philip Michael & Christine Baranski)
ADVERTISEMENT - CONTINUE READING BELOW
17. I Have a Dream (Amanda Seyfried)