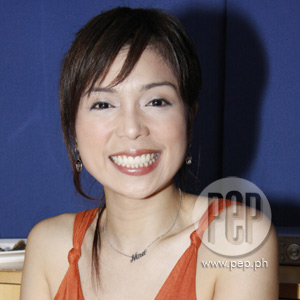 ---

Recording Diane Warren's "I Don'tWant to Be Your Friend" back in 2004 left Nina craving for more.
"A few years ago Warner MusicPhilippines came out with a compilation of all the love songs of Diane Warren.I'm actually the only Filipino in that album who was able to do a song composedby Diane Warren and a lot of people were asking for an album consisting of allthe songs composed by Diane Warren," shared Nina to the press last July 29 atRed Box in TriNoma Mall in Quezon City.
Born in Van Nuys, California,Diane authored more than a hundred songs, most of them becoming massivehits such as "Because You Loved Me," "Un-Break My Heart," "How Do I Live," "ForYou I Will," "I Don't Want to Miss a Thing," "Blame It on the Rain," "When ISee You Smile," "By the Time This Night Is Over," "I'll Never Get Over You,""Saving Forever For You," "I Could Not Ask For More," "I Love You, Goodbye,""If You Asked Me To," "Blue Eyes Blue," among many others.
A genuine fan of the prolificAmerican songsmith, the Soul Siren wanted to do a record consisting of some ofDiane's most loved tunes. Diane has heard Nina's interpretation of "I Don'tWant to Be Your Friend" and was reportedly impressed. When she learned of heryoung fan's desire to record her songs, Diane willingly agreed and gave her blessing.
In a special dedication she wrote for Nina, Diane wrote: "A few years ago Nina cut 'IDon't Want to Be Your Friend,' one of my favorite songs. I am very happy thatshe is now coming out with an entire album filled with the songs that I'm proudof. Hopefully, this is just the beginning of a lot of hits together."
ADVERTISEMENT - CONTINUE READING BELOW
The message was printed in fullin the inlay of the Soul Siren's latest album titled Nina Sings the Hits of Diane Warren.
SELECTION PROCESS. Choosing the songs to be included in the albumwas not easy given the wealth of hit materials written by Diane.
"Pinili namin 'yong mga songs nafamiliar sa lahat ng tao and ibang songs na gusto ko from the 150 [hit] songsthat she wrote," explained Nina.
Dubbed as the Queen of Ballad,Diane's compositions possessed universal appeal brought by its love themes. Itis therefore easy to understand why Filipinos could easily relate to the songs,including Nina herself.
"Kasi lahat ng songs ni DianeWarren, halos lahat ng songs that we included in the album are love songs andyou know naman na forte ko din kasi kahit papaano parang feeling nakaka-relateako sa love songs."
Nina and her team re-arranged the songs to give a slightly different feel. The changesthough were not drastic so as not to ruin the original mood as envisioned byits author.
The album's carrier single is "ICould Not Ask For More"—a song originally popularized by American alternativeartist Edwin McCain back in 1999. The said song is also Nina's favorite trackin the entire record as it explains her current state, professionally andromantically speaking.
"I you are in a situation whereyou're happy, of course you could not ask for more. And if there's a person whocould make you smile, just feel blessed that this person could turn around asad moment into happy moment."
With the release of the album andwith Diane Warren expressing her support, Nina is keeping her fingers crossedthat another one of her wishes would come true for the next album.
ADVERTISEMENT - CONTINUE READING BELOW
"Hopefully, sana po, an albumconsisting of original songs written by Diane Warren for me," Nina says hopefully.
TRACK LISTING.

1. I Don't Want To Miss A Thing
2. I Turn To You
3. Love Will Lead You Back
4. Because You Loved Me
5. Have You Ever
6. Un-Break My Heart
7. There You'll Be
8. I'll Never Get Over You (Getting Over Me)
9. Blue Eyes Blue
10. How Can We Be Lovers?
11. When I See You Smile
12. Saving Forever For You
13. How Do I Live
14. I Could Not Ask For More
15. I Don't Want To Be Your Friend