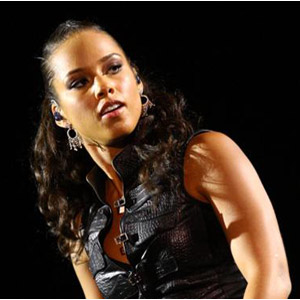 ---
Wearing a black leather sleeveless top and tight-fittingpants, Alicia Keys burst into the stage to meet the eager fans who waitedpatiently for her at the SMX Convention Center last August 5, 2008.
Living up to her screen name of Keys (her last name isactually Augello-Cook; she was given the monicker because of her classicalmusic background), Alicia wowed the crowd with her dexterity on the piano.Before sitting down on the piano, she sweetly asked, "I just wanna know,is it okay with you if I play my piano for you tonight?" The 15,000audience members could not resist her charm.
This is the second time that the female R&B singer hasbeen in Manila—her first appearance on Philippine soil was at the AranetaColiseum back in 2004. Alicia referred to her previous visit several timesduring her performance, which started at around 9:45 p.m. and ended at 11:15pm.

For the benefit of those located a long way off from the stage of the SMX, hugefifteen-feet high screens were set up at the center of the stage and on theboth sides. Close-ups were done on Alicia's gorgeous face and her long fingersas they flew over the black-and-white ivory keys.
Alicia warmed up the audience by saying that "sometimes, youfeel a certain way but you don't have the words to tell someone. You know, whatI mean..."
She then kicked off her set with "Go Ahead" from her newestalbum As I Am. The 27-year old singer-songwriter performed a total of 19songs that night, including two encores when the crowd chanted, "We want more!We want more!"
In the middle of her set, she promised Filipinos that:"Nothing can stop us from feeling good tonight. "Nothing can stop us from beingtogether tonight."
One of the most applauded numbers was her performance of"How Come You Don't Call Me." She even asked the members of the audience to putup their hands in the air and to answer back, "Call me!"
ADVERTISEMENT - CONTINUE READING BELOW
Alicia also performed a fast-paced remix of "Karma" with heron the piano. After showcasing her piano skills, Alicia told the crowd, "It'stime we had a little fun!" The singer-songwriter then left the piano togroove to the beat of "My Boo."


The eleven-time Grammy award-winning singer introduced thecrowd to Whitney and Amanda, her guitarist Jeff, bassist Steve, and Brian whoexhibited cool tunes with his trumpet. Germaine Paul, one of the back-upsingers, performed an impressive duet with Alicia for the cover of "TenderLove."

Some people thought that the show was over when she crooned her song "Fallin,'"but most members of the audience simply would not leave until they heard thesinger perform her famous songs. The crowd got up on its feet to dance whenAlicia returned to belt out the lyrics of "No One." Alicia encouragedthe crowd to sing by saying "You sound so good!"
Some people filed out of the SMX Convention Center but moststayed to see if they could coax Alicia to do another song. Pretty soon, theAmerican singer graced the stage again to do her second encore of "If IAin't Got You."
You could hear the crowd singing along as she sang: "Somepeople want it all / But I don't want nothing at all / If it ain't you baby /If I ain't got you baby."
By this time, she said her final goodbye to the crowd."Thank you all for your love, thank you for all of your support and your heart.Thank you for coming on this journey with me. We can't wait to come back toManila! Thank you all so much for a beautiful night!
"We thank you so much for coming tonight. No rain, no wind,no snow, no sleet or anything could come between you and I. We can't wait tosee you again! Thank you Manila and good night!"
ADVERTISEMENT - CONTINUE READING BELOW
This concert, organized by MTV Philippines and MusicManagement International, also had Luke Mejares and Duncan Ramos as openingacts.
Click
HERE
to view photos of Alicia Keys'
As I Am
concert in Manila.