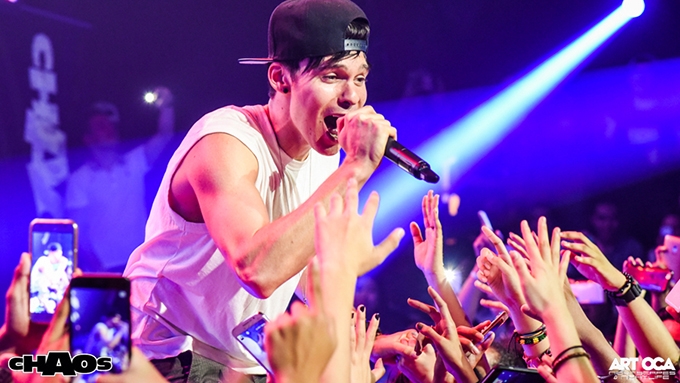 ---


For being tapped by pop superstars Britney Spears and Shania Twain to electronic dance music's (EDM) biggest artists such as Zedd, Steve Aoki, among others, American singer Matthew Koma proves he's one of the most sought after songwriter-producers in the music scene. 
The 26-year-old musician made his way back to Manila for an overnight affair at City of Dreams' trendsetting nightclub, Chaos Manila, last Friday, May 27. 

A jampacked venue was waiting for Matthew to hit the decks at around 2 a.m. His Filipino fans were grateful to see him perform live one again, and spin some of his biggest collaborations Zedd and other EDM artists including club favorites "Find You" and "Spectrum," among many others.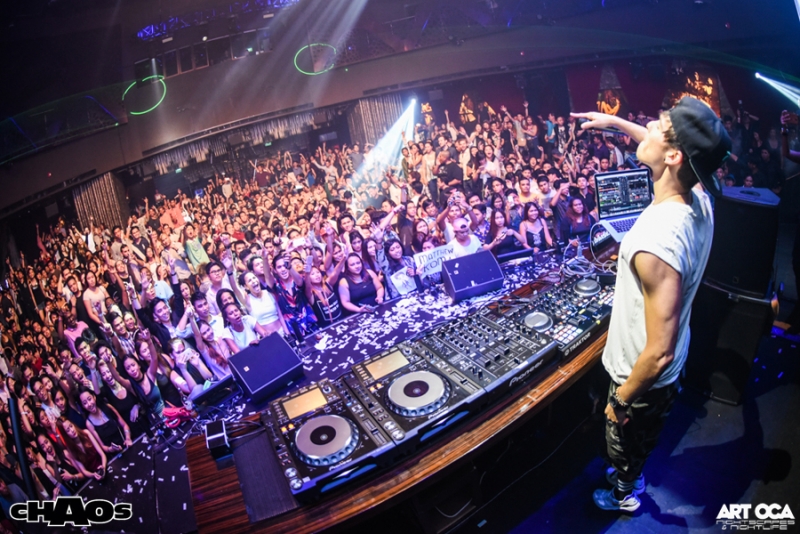 (Photo by Art Oca)

Matthew may have been jet-lagged after a long-haul flight from the U.S. when he met with PEP.ph (Philippine Entertainment Portal) and other members of entertainment media last Friday afternoon at Pangaea club, but the EDM DJ still expressed his excitement to meet his Pinoy fans.
He told the press, "They've always been super supportive of me regardless of like if it's on the internet or a show. There's such an enthusiasm here that I'm really thankful for. So it's one place to visit that you know you're welcome when you're getting in." 

He added, "It always helps me motivate through the travel."


(Video by Nikko Tuazon)


With a new international act hitting the party scene in Manila, members of the press corps also asked Matthew for his thoughts on the recent tragedy at a concert-party in Pasay City where five people died, allegedly because of drug overdose.
Matthew admitted that he was saddened upon hearing news of that sort. The "Find You" singer told the press, "I mean there's a lot of stereotypes that come along with partying or electronic music. Personally, I don't drink, I don't do drugs. I never have."
ADVERTISEMENT - CONTINUE READING BELOW
He continued, "So, I think there's a way to be part of it without having to do that sort of stuff and just completely enjoy it just in a different way. It's not worth it, especially when you hear stories like that, people losing their lives over it. It's just heartbreaking and it's silly."
Still, Matthew thanked his Filipino fans for their unwavering support for his music. He said, "Thank you so much. thank you for coming. Thank you listening to the music. Thank you for singing along. Thank you for letting me do this and be here. It's amazing!"


(Video by Jaypee David)

Matthew has been going back and forth to the Philippines since 2013 but the singer/producer is yet to discover much of the country aside from its good food.

Some of the songs he remixed at the Manila-leg of his tour are Calvin Harris' "Blame," Clean Bandit and Jess Glynne's "Rather Be," Eurythmics's "Sweet Dreams (Are Made of This)," among many others. Right after his Friday night show, Matthew went straight to the airport for a show in Vietnam.



ARCADIA. For some time now, Matthew has been working on his debut album reportedly titled Arcadia. The New York City-based artist has released two extended play albums—Parachute (2012) and The Cherrytree Sessions (2013)—but is yet to release a full-length solo record.

The "Spectrum" singer has been working on new music since late 2014 and is excited to announce that his debut album will be available early next year.
Before flying to the Philippines, Matthew said he has finished recording the last song on his upcoming album.

He told the press, "I just finished my record actually. Pretty much tracked the last vocal before I go out playing here so we're mixing now and we'll have the record very, very soon. 
ADVERTISEMENT - CONTINUE READING BELOW
"It will actually be my first album so I'm excited for you to hear it."
For this album, Matthew decided to collaborate with new artists such as 23 year-old New York-based producer Jai Wolf. 

Matthew admitted, "I've been really fortunate to work with a lot of great people on this record."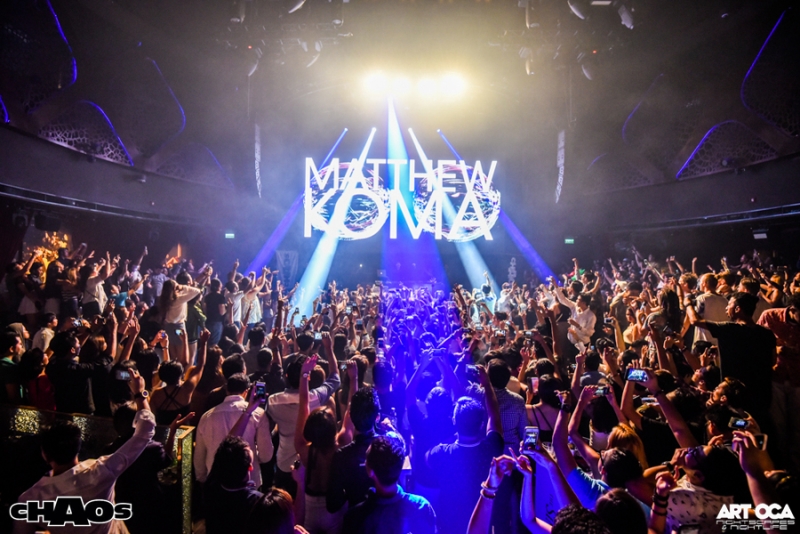 (Photo by Art Oca)

When asked if his new album would feature EDM tracks, Matthew said his new songs would still have the same vibe but with a different sound. The American singer/songwriter believes his music is a "progession" from his previous tracks.
He explained, "The past couple of years has been kind of finding a way to do what I do within the context of production that made it feel like something different. I'm definitely continuing to do that. But again, working with producers that kind of bring a different sound to the table, I think it has allowed me to put the songs in the context that they have lived in yet."
Matthew continued, "So although the perspective is mine because it's me writing the lyrics, writing the words, and writing the melodies that I have in other previous collaborations. I think that's where I matched the thing... the foundation that I would continue to do the same but it's definitely a progression from where I've been."
Italian EDM duo Vinai is also expected to party with their Filipino fans this Friday, June 3, also at Chaos nightclub, City of Dreams Manila. Tickets are available at SM Tickets for P1,045.