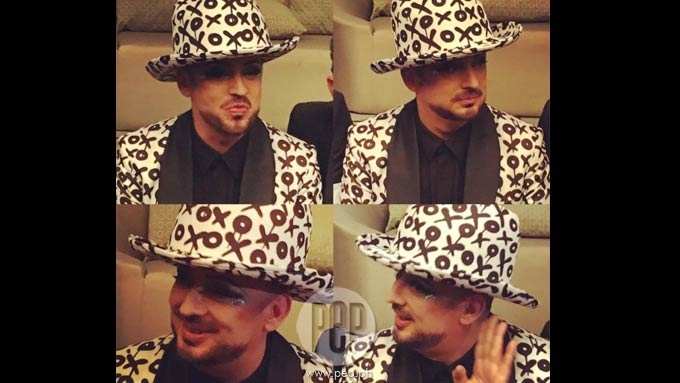 ---

Boy George arrived in the Philippines with the British '80s band Culture Club last June 15 at the Ninoy Aquino International Airport.

They are slated to perform in a special one-night concert at the Smart Araneta Coliseum on June 18 billed as Culture Club Featuring Boy George Live In Manila presented by Royal Chimes Concerts and Events.

Boy George and Culture Club members Roy Hay, Mikey Craig, and Jon Moss faced the Philippine media during their June 16 press conference at Novotel Hotel Manila in Araneta Center in Cubao, Quezon City.

The British pop singer-songwriter, whose real name is George Alan O'Dowd, turned 55 years old last June 14.

The openly gay singer said that it was the saddest birthday for him because it was also the day of the infamous Orlando shooting that claimed 49 lives.

A gunman opened fire at Pulse, a gay nightclub in Orlando, and injured at least 53 other people. It is considered the deadliest mass shooting in U.S. history.

"It was quite difficult to celebrate my birthday," said a pensive Boy George.

"It's an attack on everybody.

"I think my sentiments would be the same as anyone else. I was very sad about it.

"Right now, especially in America, it's making a lot of people aware of the LGBT community.

"I cannot even put into words how I felt.

"Unfortunately, it happened during my tour and I can't stop to think about all the families and those who were devastated.

"It's unbelievable… I feel very sad and I don't know how people are going to go through it but I know they will."



ADVERTISEMENT - CONTINUE READING BELOW
MANILA CONCERT. The band has been receiving messages from Pinoy fans on social media expressing their excitement that Culture Club will finally perform in Manila.

Upon his arrival, Boy George posted on his Twitter account to share his observations about the country: "Gemini's [sic] hate surprises but I'm excited to be in the Philippines. It's very buzzy, vibrant, crazy. The people are super friendly!"



Gemini's hate surprises but I'm excited to be in the Philippines. It's very buzzy, vibrant, crazy. The people are super friendly!

— Boy George (@BoyGeorge) June 15, 2016



Upon their arrival, Boy George also tried tweeting in Tagalog.

He tweeted: "Kaya masaya na maging dito at naghahanap ng pasulong upang ang kultura club show"

A fan translated his tweet as "So happy to be here and looking forward to Culture Club's show"

During their press conference, the group members said they were delighted to perform for the first time in Manila.

Boy George admits that he was clueless that their band has been famous in the Philippines since they shot to fame in 1981 with their hit singles "Karma Chameleon", "Miss Me Blind", "It's A Miracle", "Church of the Poison Mind", "Do You Really Wanna Hurt Me", "Time", "Mistake Number 3", "Love Is Love", "I'll Tumble 4 U" and "The War Song."

"As it's our first time here, it's going to be interesting to see how people react, their own levels of enthusiasm," says Boy George.

He adds: "It's exciting, and we really don't know what to expect.

"For me, it's all about the show... I would want to focus on the show and do the best job possible.

"As a band now, we're at the best we've ever been. I think we enjoy this more now, and that translates to the performances we give the audience."

Before arriving in the Philippines, the band had been on tour for the last three months.

It's the biggest tour they had since they reunited after more than 12 years.
Officially, Culture Club disbanded in 1986 due to personal differences. They reunited in 1998 for a reunion concert tour and by 2003, George made a new career for himself as a DJ.

Now they have come together again for a 40-city tour that includes Manila.

"We've had warm receptions from Australia, U.S. and Canada. It was such a lovely trip.

"We've been on the road for three months, so it's a really big tour.

"The thing that we'll remember is whether the people enjoy the show or not," says Boy George.

Embarking on this tour made Boy George nostalgic about their journey together.

"It has been 30 years and we've gotten older.

"We started out as kids who just wanted to make music and make people appreciate it.

"We never expected that things would turn out that way. All we wanted to do was write song, play instruments and perform.

"We still carry that and that I guess, makes us a great team."

In 1983, the band won a Grammy Award for Best New Artist and two Brit Awards the following year. They also received numerous nominations from the MTV Music Video Awards and the American Music Awards.

Their six studio albums have sold more than 50 million copies worldwide.

George further recalls: "It's a special thing this band has, you know, and I hope the audience sees that when they watch us onstage. We really enjoy it.

"For us, music is universal, especially the kind of music that we make. People are familiar with the songs.

"We kind of grew up with our fans. When you're famous, you tend to live your life in the public eye, so people kind of have a relationship with you.

"There has been exciting time, the romances, the joys, the sadness. That's what we try to communicate to the audience.

"Music should make you dance, cry, or sing. If you could do all of those things in one show, I think you're on to a good thing.

"It's just amazing that we are still able to do what we do."

Why did Culture Club have to disband in the first place since they were such a good team to start with?

Boy George explains, "I think in life, there are a lot of things that happen and you just have to move on.

"The most exciting time for us is right now.

"We are more in parallel now. People always look back at the past, things that went wrong.

"I think each one of us went through a lot but the beauty of pop culture is that you enjoy the moment, things happen and you enjoy it as it is.

"Basically, for us, it was all just for transformation."

Boy George became the gay icon that he is during an era when being gay was ridiculed and there were no laws to protect their choice.

But singer, as flamboyant as his personality can take him, experimented on kabuki make-up, colorful clothes, outrageous hairstyles in order to give a new take on the New Romantic movement that English music has started.

"My looks was my vision of that era in music. There was punk and glam rock. I wanted to do both and when I was able to capture that, I never looked back.

"If I have one thing to say to the LGBT community? Be true to youself and focus on the people who loves you," he says with a smile.





ADVERTISEMENT - CONTINUE READING BELOW