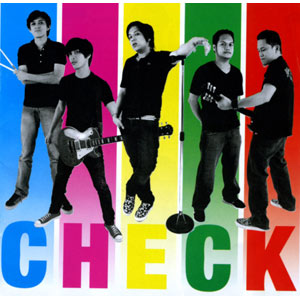 ---

Formed in 2003, the quintet ofJim Pangan (vocals), Cheiy Alanes (guitars), Roy Ordonio (guitars), Ode Talato(bass), and Jarwin Javier (drums)—collectively known as Check—struggled longand hard before finally landing a record deal.
Back then, the band was stillknown as Check Experiment until they decided to shorten their name to make itmore catchy and simple. The change of name coincides with the band's growingdesire to write original songs instead of settling for cover tunes to liventheir set.
"You can only go a certaindistance doing covers and we matured and developed as musicians so the nextlogical step for us is to make our own songs," reasoned Pangan (who is notrelated to Jett Pangan of The Dawn).
Rodel seconded their frontman'sexplanation by saying, "We started this band because gusto lang naming tumugtogbut along the way we enjoyed it tremendously and there's that itch to writeoriginal songs. Because individually and as a unit we experience things andwhat else can you do as musicians, creatively speaking?"
The band members of Check citeFrancis M, P.O.T., Coldplay, Sting, Maroon 5, Eraserheads, Rivermaya, JohnMayer and Incubus, as some of their shared musical influences.
STRIKING A DEAL. Juggling their time between writing songs,performing and recording demos, the band was also simultaneously shopping for arecord deal. It was December of last year when Sony BMG Music Entertainmentexpressed interest and signed the hard working unit for a record deal.
There's really no need for theband to adjust in a studio environment since they have been fastidiouslycutting new materials inside the studio for years.
"Sobrang saya," said Jimanimatedly, talking about working inside the studio with a proper studio albumon mind.
"Pero ang number one nanakakakaba dun, e, 'yong makita namin 'yong mga idol namin like Bamboo napumapasok dun sa studio. Talagang pangarap lang namin, idol lang namin taposnakita namin sa studio, nakamayan namin tapos nakausap namin kahit papaano."
ADVERTISEMENT - CONTINUE READING BELOW
Meeting and sharing a studio roomwith their heroes, however, were the only distractions during actual recording.Check's hard work resulted to the band's self-titled debut album consisting often original tracks.
Check's ability to conjure catchymelodies with hooks was evident in all of the songs: "Ka-iisip," "Good Times,""Pwede Ba?" "Liwanag," "Pasensya Ka Na," "Karera ng Puso," "Hunyo," "Dwell,""Superstar," and "Tissue."
The band members' experiences onlove and heartbreak became the fuel behind the songs. "Tungkol sa ka-torpehan,"explained Jim to PEP (Philippine Entertainment Portal), "minsan nga nagyayayana kami ng karera, karera ng puso."
Check's carrier single is"Ka-iisip"—a melodic and passionate ballad that talks about yearning brought bya lover's absence typical of those working in call centers.
"Tungkol 'yon sa mga taong hindinagkikita na sa umaga tulog 'yong girlfriend niya o boyfriend niya tapos a gabunagwu-work tapos ikaw naman 'yong tulog, parang ganoon, hindi makakain,makatulog kaiisip," reasoned Jim.
The music video of "Ka-iisip" isnow being played by local music channels.
TRACK LISTING.
1. Good Times
2. Liwanag
3. Ka-iisip
4. Pwede Ba?
5. Tissue
6. Superstar
7. Dwell
8. Hunyo
9. Pasensya Ka Na
10. Karera Ng Puso