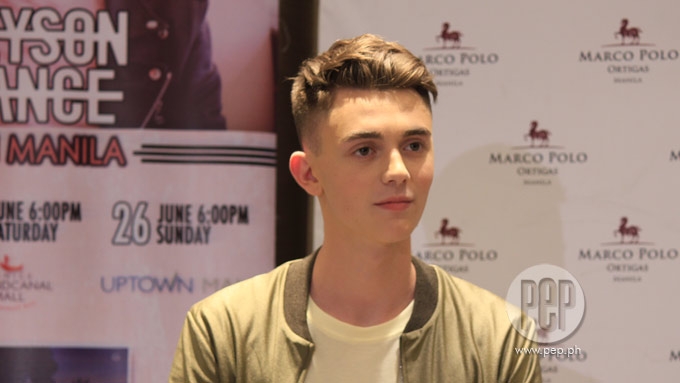 ---

Upon his return to Manila, Greyson Chance says he missed one thing the most about the Philippines: the colorful jeepneys.

The American singer admitted he missed the jeepneys but definitely not the traffic.

He then added, "I really like the people here, you know like what I said everyone is always super sweet when I come back and the culture adds and the food, of course. Everything is so good."

The 12-year-old Youtube sensation is now an 18-year-old heartthrob singer promoting his new EP album, Somewhere Over My Head.

For his second visit to Manila, he embarks on a series of mall shows happening this weekend in Taguig and Quezon City. Catch him this Sunday, June 26, at 6:00 PM at the Uptown Mall in Bonifacio Global City.

The singer-songwriter disclosed that he went on hiatus when his voice changed. Greyson was discovered by Ellen DeGeneres when he was just 12. His father took a video record of him singing Lady Gaga's hit song "Paparazzi" in 2010 and registered over 55 million views. His rendition of Lady Gaga's hit song sparked Ellen DeGeneres' interest and he was invited to her show in 2010.

Greyson just graduated from high school last week and he plans to continue being active in school and take up more classes even after he graduated.

"This EP is just mainly being inspired by me being 18 and everything I've become along with that," he told the Philippine media during his June 24 press conference at the Marco Polo Hotel in Ortigas.

He even said that when he moved out of his home and moved to Los Angeles, he was also inspired by the feeling of being young and moving to a new city where wild and crazy things can happen.

"I'm wild somedays but I'm loyal" is the first line of his song "Back On The Wall" and these lines perfectly depict his emotions when he moved out of his home to live in a big city.

Here are excerpts from the interview:

What were the things that made you come back to music again?

Greyson Chance: I think I was just writing a lot back home and said yeah I just have to do this. I just have to figure it out and also to the fans seeing the support online and seeing the sort of warmth you see in your music and that's what kind of pushed me along. It could be really hard at times, it's not the easiest career path to take and you know being in this industry and make sure everything lines up that could be really hard, you just have to keep your mind set and focused to music. So I was writing back home and said I gotta do this is. I don't have a choice in this matter anymore.


How different is this EP from your previous EPs like how does your voice sound different?

Greyson Chance: I think it's completely different. I would say the voice would always be the number one thing right and everyone's been telling me like how when we first heard 'Back On The Wall,' we were like great song and then they say 'it was Greyson' and they're like 'no.. that's not true.' So I think the voice definitely is the biggest thing. I think when I was listening to some...I don't like this word but when I was listening to some more edgy music thing and yeah it was kind of fun using the deeper and harsher sounds that sort of thing so I kinda wanted to write it back to the music. I think I have changed certainly and the song has changed most certainly in all sort of things but I'm still the same kid doing the same thing you know..uhm but it's just the exteriors stuff is what's changed but I'm still the 12-year-old kid playing the piano but is now 18.


How involved were you in the production of your EP?

Greyson Chance: Very involved. I was kinda like the bus stops here sort of thing and I worked with my collaborators that I've chosen for this and we're really just friends in all honesty. With people that I work with I've been with them a lot of times before and go up to the studio I feel really comfortable with. There was one producer in particular that helped me with write the last song on the EP and it's a song called 'More Than Me' and his name is David Ryan Harrison. So I walked up to the studio that day and I was like, 'You are so much cooler than I am' and he really helped me with that song because it was something that I was really trying to figure out how to finish and he helped me do that. In terms of production, I was very, very involved and with the creativity part too.


Have you ever been asked or are you willing to collaborate with a Filipino artist to do an OPM song, an Original Pinoy Music song?

Greyson Chance: I don't think I've ever been approached for that you know. I had collaboration with Charice back a couple years ago [for the song "Waiting Outside The Lines"]. It was amazing working with her. She's incredible and I don't think at the moment anyone has asked me but I mean I'm okay with that. You guys have amazing talent here and so I've just been meeting different artists here, meeting some new collaborators. If something happens, yeah I'm more than willing to do that.


ADVERTISEMENT - CONTINUE READING BELOW